• "She and I fell in love like a couple of school kids. I'm glad to know that happens, that that exists."
–
Kenny Chesney,
on not regretting his short-lived marriage to actress Renee Zellweger
• "I'm pegged as a crier, aren't I?"
–
Jennifer Aniston,
referring to the
Vanity Fair
article that depicted her as "weepy" over her breakup with Brad Pitt
• "I'm not old or anything. But I'm not exactly Nicole f---in' Richie either."
–
Sarah Silverman,
to
Entertainment Weekly,
on being a celebrity in her mid-30s
• "How do you call yourself a human being knowing that you put somebody else through that pain?"
–
Shar Jackson,
who says ex-boyfriend Kevin Federline cheated on her with Britney Spears while Jackson was pregnant with their second child
• "Britney Spears's husband Kevin Federline?s first rap song, 'Y'all Ain't Ready,' was leaked onto the Internet. You?re right, we ain't ready. Forget about Scooter Libby – whoever leaked this should go to prison."
–
D.L. Hughley
• "This is the fairy-tale romance of the century. Girl meets boy. Girl loses boy. Boy marries another girl. Girl becomes boy's mistress. Other girl dies tragically. And they all live happily ever after."
–
Stephen Colbert
(
The Colbert Report
), on Prince Charles and his wife, Camilla Parker Bowles
• "I wasn't even dancing."
– Tony Award-winning actress
Sutton Foster,
after breaking her arm while rehearsing the song "Accident Waiting to Happen"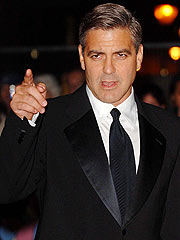 Karwai Tang / Alpha / GLOBE
• "I won't stand by while someone is being insulted and maligned."
–
George Clooney,
defending his actions in a statement after getting into a scuffle outside a London restaurant
• "So I drive around this superficial town/ With a smile on my face/ No one really knows how I feel inside/ And I'm keeping it that way."
–
Lindsay Lohan,
in her new song "Fast Lane"