• "I don't own a scale."
–
Nicole Richie,
on not knowing how much weight she's lost, on
Today
• "It's a lot of work. So I'm happy that I'm a witness to that. It's not as glamorous as it seems."
–
Beyonce,
on what she's learned about motherhood by babysitting sister Solange's 1-year-old son, Daniel Julez, to Oprah Winfrey
• "We're working things out. And he's always and will remain my closest friend in the world, so, you know, so it's good."
–
Sienna Miller,
on her relationship with estranged fiancé Jude Law
• "I thought people got legend awards when they were like 60."
–
Mary J. Blige,
receiving the lifetime-achievement honor at the
Vibe
Awards
• "Actors don't retire – they die."
– 70-year-old
Donald Sutherland
(
Commander in Chief
), about not slowing down his career, to
Time Out New York
• "We smoked a lot of cigarettes."
–
Brokeback Mountain'
s
Michelle Williams,
on how she and costar Heath Ledger (her real-life beau) dealt with the emotionally grueling shoot, to
Entertainment Weekly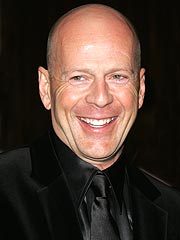 • "Yes, I would. Yes, I would."
–
Bruce Willis,
when asked by MSNBC's Rita Cosby if he would offer $1 million to a civilian who turns in Osama bin Laden, Ayman al-Zawahiri or Abu Mousab al-Zarqawi
• "A winemaker has filed for a patent for its new Jesus Juice wine, which features a man dressed like Michael Jackson on the label. It's the only wine in America made from statutory grapes."
–
Tina Fey,
on
Saturday Night Live'
s "Weekend Update"
• "In a recent interview, Ashlee Simpson said that, when she gets married, she doesn't want to marry a singer. Ashlee said, in other words, 'I'm looking for someone like me.' "
–
Conan O'Brien