ANISTON ANSWERS: Jennifer Aniston
finally spoke out about how things stand between her and ex-husband
Brad Pitt.
"Do I talk to Brad? Yes, we do, I do," Aniston, 36, said on
Good Morning America.
"That's very peaceful. It's a really peaceful thing. ? People want it to be this war and this mean, terrible, shallow thing that's just playing like some soap opera or storyline, and it's just not. So, yeah, pleasant, done." "And
Vince Vaughn?
" asked Diane Sawyer. Aniston laughed, then said: "Next question, Miss Sawyer." But Sawyer pressed on, citing press photos of Aniston and the comic actor getting very cozy together. "Pictures are pictures," said Aniston. "He is my friend."
ALLEY MAX: Kirstie Alley
was at her largest at 219 lbs., she admitted on
The Oprah Winfrey Show
Monday, and to date she's shed 55 lbs. of that, and has her sights set on dropping another 25-30. "I made some good decisions simultaneously with some bad decisions," Alley, 54, said of the way she let her body balloon. "The good part of it was, 'I'm going to spend more time with my kids (William, 13, and Lillie, 11), I'm going to cook.' The bad decision was – and this is the dumbest decision I've ever made in my life – it went like this: If a man really loves me, he will not have to love me for my body. He will really love me just for me. ? When did I decide I was a big, fat girl?"
SPEARS SONG: Britney Spears
showed that her hit song "Sometimes" was not plagiarized, leading an Indiana judge to dismiss a songwriter's copyright infringement lawsuit against the 23-year-old star. "I cannot emphasize enough this was not a settlement but a dismissal," Spears's lawyer, David R. Baum, told the Associated Press. Steve Wallace claimed in his lawsuit against Spears, Sony/BMG Music Publishing Inc., and recording and publishing companies that he had written "Sometimes" in 1990, though he acknowledged that he did not formally copyright the song until 2003 – four years after Spears registered her track with the U.S. Copyright Office.
POST-KATIE: Katie Holmes
's ex-fiance
Chris Klein
spoke out about his former love who is now engaged to – and expecting a child with –
Tom Cruise.
"I look back on Katie and my time with her with a great fondness," he told PEOPLE. Not that he doesn't express concern about her recent foray into Scientology. "I hope that she's making decisions that are making her happy," he told TV's
Access Hollywood,
"and that she doesn't have people in her life leading her astray." As for his own life Klein told PEOPLE that he and Holmes don't talk anymore, but he's not looking for sympathy. "I'm dating. I'm out and about," he says. "I do a lot of surfing, some weight work, yoga." But his main joy is his work. "I find myself really inspired to continue pushing myself." That may be an understatement: Klein, 26, has five movies due out in the next year, including the comedy
Just Friends,
opening Nov. 23.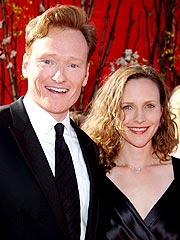 PAMPERS PATROL:
Late Night
host
Conan O'Brien
and his wife
Liza Powel O'Brien
welcomed their second child. The couple "is thrilled to announce the arrival of their son, Beckett O'Brien," a statement said. The baby boy was born Wednesday in New York City at 8:27 p.m., and weighed in at 8 lbs., 4 oz. "Mother, baby and father are all well," according to NBC. The couple's daughter Neve was born Oct. 14, 2003. ? Los Angeles Lakers star
Kobe Bryant
and his wife,
Vanessa,
are expecting the couple's second child in May, a spokesman for the hoop star announced. The Bryants' daughter, Natalia, turns 3 in January. ?
Gena Lee Nolin,
who starred as Neely Capshaw on
Baywatch,
and her hockey player husband,
Cale Hulse,
are also expecting a baby. Nolin, 33, already has an 8-year-old son, Spencer, from her first marriage to video producer Greg Fahlman.