• "We're never ever getting married. Not ever. Just to piss them all off!"
–
Stuart Townsend,
on how he and girlfriend Charlize Theron are responding to media speculation about when they'll wed
• "I've been walking like a Barbie doll since I was 4."
–
Mariah Carey,
on why she always wears high-heeled shoes, to Ellen DeGeneres
• "I just want to tell them all to have babies and be happy and not get sucked into the Hollywood thing."
–
Gwyneth Paltrow,
on what advice she'd like to give young actresses, to
InStyle
• "I had literally starved myself for four months – not a morsel of food – to get into that pair of size-10 Calvin Klein jeans. Two hours after that show, I started eating to celebrate. Of course, within two days, those jeans no longer fit."
–
Oprah Winfrey,
recalling her celebrated 67-lb. weight loss in 1988, as part of her 20th anniversary show.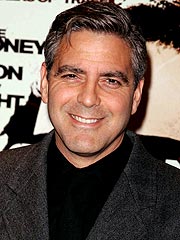 • "McConaughey ran such a good campaign. Matt (Damon) and I were hurt ... but I think we're going to be all right."
– Onetime PEOPLE Sexiest Man Alive
George Clooney,
on newly crowned SMA Matthew McConaughey
• "You're constantly saying, 'Yeah, we did come in fourth overall, but we're No. 1 with unicorns.' "
–
Arrested Development
star
Will Arnett,
lamenting the low ratings for his critically acclaimed (and cancelled) show, to
Entertainment Weekly
• "When you've been in a relationship with someone, and you move on, you wish them happiness. You hope they find everything they are looking for."
–
Nicole Kidman,
on ex-husband Tom Cruise's relationship with Katie Holmes, to
USA Today
• "I think Jason Lewis is a creep."
–
Sex and the City
actor
Jason Lewis
, on a man of the same name who pretended to be the star in order to get close to Lindsay Lohan
• "I just kind of try to look at the pros: Thanksgiving weekend; ages 5 to 80 can see this film; I'm taking my shirt off in the film."
–
Usher,
on whether he thinks his movie
In the Mix
will have a strong opening weekend