Kara Borden told detectives that she left with David Ludwig, her 18-year-old boyfriend, of "her own free will" after he allegedly shot her parents to death, according to court papers filed in Lancaster County, Pa., Monday.
The 14-year-old girl got into Ludwig's car, saying she wanted to "get as far away as possible, get married and start a new life," according to a police statement by Ludwig, PEOPLE reports in its upcoming issue.
Ludwig is charged with two counts of homicide following the slaying of Michael and Cathryn Borden in their Lancaster home on Nov. 13. The kidnapping charge against him was dropped Monday.
Ludwig told police that he shot Michael Borden following a 45-minute long conversation in which Borden told Ludwig that the young man could not see Kara any longer. Tempers started to flare. Then, as Borden escorted Ludwig to the front door, the boy pulled out a handgun and shot him in the back of the head. Within seconds he allegedly pumped a single bullet into Cathryn Borden's head as well, before fleeing with Kara.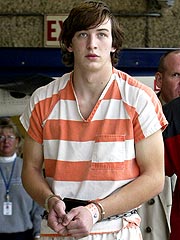 Police initially believed that Ludwig had kidnapped the girl, but she told detectives "at no time did the defendant force her to go with him after he shot and killed her parents. Rather, she acknowledged going with him 'of her own free will,'" CNN reports.
After the murders Pennsylvania authorities issued a nationwide Amber alert. A motorist in Indiana spotted the red Volkswagen Jetta belonging to Ludwig, who led police on a brief high-speed chase before he smashed into a tree in Belleville. Kara emerged from the car in tears and ran toward Ludwig, yelling, "Don't hurt him, don't hurt him!"
According to a police document, Ludwig confessed to the killings and told cops they could find the murder weapon under a seat in the car. Ludwig is now being held without bail while prosecutors decide whether he should face the death penalty.
Meanwhile, a court guardian has been appointed for Kara. Robert Beyer, the girl's attorney, said he did not expect charges to be filed against her, suggesting that a young girl who has seen her parents murdered should not be held to blame. "I'm not going to argue" with the prosecutor, says Beyer. "She's still a victim. We're on the same side."
One family friend says that the other orphaned Borden children – besides Kara, there is Katelyn, 15, David, 11, Justin, 22, and James, 25 – will be cared for by a relative. Meanwhile the family, friend Jared Gagne, 22, tells PEOPLE, is standing behind Kara. "People who know her know that it's just not possible," says Gagne.