• "If there are any problems and you do get up here and go on too long, then (say) 'hello' to my little friend."
–
Russell Crowe,
brandishing a phone onstage while hosting an Australian awards show
• "This is the mutual decision of two people with an enormous amount of respect and admiration for each other."
–
Nick Lachey
and
Jessica Simpson,
in a joint statement announcing their split
• "It is better to have a brief engagement than a short marriage."
–
Kimberly Stewart
and
Talan Torriero,
in a joint statement announcing the end of their two-week engagement
• "I see a little baby."
–
Tom Cruise,
on what he sees when he looks at the images from the sonogram machine he bought fiancée Katie Holmes, to Barbara Walters
• "I've tried to maintain an uneasy balance between your friendly, unassuming neighborhood pharmacist and Anthony Perkins in
Psycho.
"
–
Roger Bart,
on playing
Desperate Housewives'
creepy medicine man George, to the Associated Press
• "I really had my moments with the ugly gene."
–
Jessica Alba,
on her awkward adolescence, to
Entertainment Weekly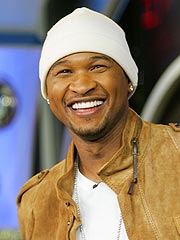 • "Buy her a drink. Talk to her about whatever it is that she wants to talk about. As long as you keep her laughing, you got it."
–
Usher,
on what he's learned about women, to PEOPLE
• "Obviously, he irritates me on a significant basis, as everyone's significant other does."
–
Madonna,
on husband Guy Ritchie, to
Rolling Stone
• "I believe it's the most money made by a teenage boy without suing Michael Jackson."
–
David Letterman,
on
Harry Potter and the Goblet of Fire'
s $100-million opening weekend