• "I decided I'd leave on top. I want to be like the athletes who seem stuck in time. When you see them at 50, you say they probably can still run like a champ."
–
Tyra Banks,
on retiring from modeling after participating in her last runway show for Victoria's Secret, to CNN
• "Is it kind of weird that I'm getting a little emotionable?"
–
Jessica Simpson,
while accepting her "Big Stylin'" award at the VH1
Big in '05
awards, before she corrected her grammar
• "We've been trying to drum into his head that, basically, if you're a good little boy, Santy will bring you presents. We don't want him expecting too much, but it's hard not to indulge a 3-year-old."
–
Sarah Jessica Parker,
on son James Wilkie (with husband Matthew Broderick)
• "Good news: It's been reported that Mary-Kate Olsen has gained 20 lbs. The bad news: Ashley Olsen is missing."
–
Conan O'Brien
•"You have Santa in a Speedo."
– Aussie actor
Anthony LaPaglia,
telling Ellen DeGeneres what Christmas is like in sunny Down Under
• "Security will come around sometimes, but then I'll flash them the pearly yellows and go, I'm J.B. I'm famous, so let me run around. I'm practicing for
Kong!
"
–
Jack Black,
on pretending to be chased by monsters on UCLA's campus in preparation for his role in
King Kong
• "Isn't it good to know that sometimes it's true that good guys finish first?"
–
Renee Zellweger,
paying tribute to her
Cinderella Man
director, Ron Howard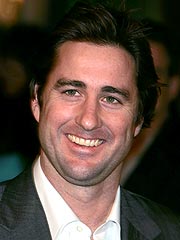 Steve Sands / New York Newswire
• "I just kind of let myself go."
–
Luke Wilson,
joking to David Letterman about putting on 18 lbs. for his new movie,
The Family Stone
• "There is only peace and love."
–
Oprah Winfrey,
to David Letterman during her first appearance on his talk show in 16 years
• "With a dozen roses and a dance belt."
–
Paul Rudd,
when asked by
Time
how he'll welcome Julia Roberts when she makes her Broadway debut opposite him this spring in the drama
Three Days of Rain