Judge J. Alexander, a.k.a. Miss J. on the UPN hit
America's Next Top Model,
is known as the sultan of strut in the fashion world. A former runway model for Jean Paul Gaultier, Alexander knows what it takes to give good catwalk and has been giving his advice all season to
ANTM'
s final three, Nicole, Bre and Nik (the finale airs Wednesday at 8 p.m. ET). Now, Alexander gives PEOPLE the scoop on how aspiring models – and everyday fashion divas – can make the runway work for them.
DO: Ask questions
Speak up! "I've seen Karl Lagerfeld many times ask girls if they like a dress and if they had a suggestion," says Alexander. "Then he would go in and make adjustments for her because he wants her to really feel good in it and make it work." You learn by asking questions, rather than not asking them at all.
DON'T: Be unprepared
In the first episode of
ANTM,
Sara slipped on the runway because she had a problem balancing in high-heeled shoes. "It's best to put them on as soon as you get them and get used to walking in them before you go out in front of the crowd," says Alexander. Then you can walk the walk like you were born wearing stilettos.
DO: Stay focused
"Some shows are so huge you can't make eye contact with anybody. Then again, there are very intimate showings where you are modeling couture or are in a private salon," says Alexander. "I tell the girls just go in there be pleasant and relax. People can see every pore on your skin in an intimate setting, so just think really happy, beautiful thoughts."
DO: Work your posture
Think of "becoming an accordion from the waist to the head," says Alexander. Models "have to stand up straight, especially in the fittings. Otherwise it will change the way clothing fits." Remind yourself never to round your shoulders.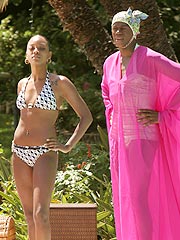 DO: Know when to be a diva
When it's time to work it for the cameras, give plenty of attitude – but know when to turn it off. "You should be a diva on the runway or the stage, but not behind the curtains," says Alexander. "Don't forget these four important phrases – yes, may I, thank you and please."
DON'T: Complain
Even if you think an outfit you're supposed to model is hideous, just grin and bear it. "You can be upset but you can't verbalize it," says Alexander. "Sometimes you'll get an ugly dress. But the right model can make an ugly dress look expensive. It happens all the time. Just make it work and walk with confidence and gusto."