• "I have amazing boobs. I do; I know it. They're not too big, not too small. They're just perfect."
–
Cosmopolitan
cover girl
Ashlee Simpson
• "Mom, Nick Lachey should be available any day now!"
– DivorceKevin.com, a Web site petitioning Britney Spears to leave husband Kevin Federline, speaking for "Baby Spears"
• "I don't need food to impress. It's a flash of a smile and a nice conversation. And at the end of the day, she's cooking the food."
– Katie Holmes's ex,
Chris Klein,
on how he woos women, to
Elle
• "He's great with weaponry. He is a little more dialed into that world than I am. The guys I know know pinball."
–
Greg Kinnear,
on his
Matador
costar and former James Bond actor Pierce Brosnan, to
Time
• "I need to be able to go to yoga and work out and just read scripts and go on auditions, because that's what makes me happy. You know? Like, papers don't really make me happy."
–
Mary-Kate Olsen,
to
W,
on why she left NYU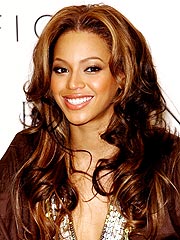 Fernando Allende / NY Post / Splash
• "I'm 24 years old!"
–
Beyonce,
laughing off – yet again – whether she is soon to marry beau Jay-Z
• "We have reconciled and are probably going to remarry."
–
Eminem,
on ex-wife Kimberly Mathers, whom in the past he's rapped about killing
• "Oh I have always been attracted to him.  I always thought that I would actually marry him."
–
Martha Stewart,
on old pal David Letterman