Eminem has announced that he and ex-wife Kimberly Mathers are back together and may even remarry – despite having gone through an ugly divorce and custody battle over their young daughter, Hailie Jade, now 10.
Speaking on Detroit radio station WKQI-FM's "Mojo in the Morning" show, Eminem, 33, said: "We have reconciled and are probably going to remarry."
During the interview, which was in conjunction with Tuesday's release of his greatest hits compendium
Curtain Call,
the rapper referred to Kimberly Mathers, 30, as "my wife Kim," reports the Associated Press.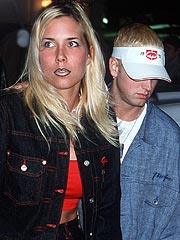 The two were married in 1999 and split acrimoniously two years later.
On the broadcast, Eminem (real name: Marshall Mathers III), also discussed his hospitalization this summer for treatment of a sleep-medication dependency. "When I went into rehab, I kind of went into it ... with the notion of 'I'm gonna get clean, I'm gonna get off this stuff before it gets too out of hand,'" he said.
As for his future, which is likely to include taking a break but not outright retirement, he said: "I'm at a point in my life right now where I feel like I don't know where my career is going. This is the reason that we called (the new CD)
Curtain Call,
because this could be the final thing. We don't know."