Thursday brought good news to Mariah Carey. With the announcement of the 48th annual Grammy Awards nominations, the songbird finalized her storied comeback by earning eight nods, including record, album and song of the year, as well as for best female pop vocalist.
Also earning eight nods were John Legend and Kanye West. Soul crooner Legend's nominations included best new artist, while his mentor West is up for album of the year for
Late Registration
and song of the year for "Gold Digger."
"This is incredible," Carey told CBS's
Early Show.
"I feel blessed to be a part of today. I feel blessed for having this incredible year. I'm just grateful for everything I have."
She said she felt best over the nomination for
The Emancipation of Mimi
as album of the year. ("We Belong Together" is up for song and record.) As for how she found the strength to rebuild her career after it seemingly fell apart in the wake of her disastrous movie and album
Glitter,
Carey, acknowledging that she's managed "a comeback," said: "It's about spirituality and getting back to a place where you have as much faith in yourself and in God as you can."
Six nominations went to 50 Cent, Beyonce Knowles, The Black Eyed Peas' Will.i.am and Stevie Wonder.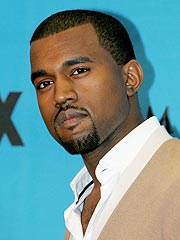 While Coldplay (which won record of the year in 2003 for "Clocks") didn't score as well as anticipated, Bruce Springsteen – who tied with Missy Elliott, Alicia Keys, Gwen Stefani and U2 with five nominations – was among the surprises. His "Devils & Dust" is in the running for song of the year, along with Rascal Flatts' "Bless the Broken Road," Legend's "Ordinary People," Carey's "We Belong Together" and U2's "Sometimes You Can't Make it On Your Own."
Four nominations each also went to Common, Destiny's Child, Foo Fighters, Gorillaz, Neptunes, Brad Paisley, Phil Tan and Gretchen Wilson.
"It's been an amazing year and this is the icing on the cake," Legend told the E! network after the announcement.
West, meanwhile, told MTV earlier this week: "If I don't win album of the year, I'm gonna really have a problem with that."
The Grammys will air live from Los Angeles on CBS Feb. 8.
Here's a rundown of the top categories:
Album of the Year
•
The Emancipation of Mimi,
Mariah Carey
•
Chaos and Creation in the Backyard,
Paul McCartney
•
Love. Angel. Music. Baby.,
Gwen Stefani
•
How to Dismantle an Atomic Bomb,
U2
•
Late Registration,
Kanye West
Record of the Year
• "We Belong Together," Mariah Carey
• "Feel Good Inc.," Gorillaz featuring De La Soul
• "Boulevard of Broken Dreams," Green Day
• "Hollaback Girl" Gwen Stefani
• "Gold Digger" Kanye West
Song of the Year
• "Bless the Broken Road" (performed by Rascal Flatts), Bobby Boyd, Jeff Hanna & Marcus Hummon
• "Devils & Dust," Bruce Springsteen
• "Ordinary People" (performed by John Legend), Will.i.am of the Black Eyed Peas
• "Sometimes You Can't Make It on Your Own," U2
• "We Belong Together" (performed by Mariah Carey), J. Austin, Mariah Carey, Jermaine Dupri and Manuel Seal
Best New Artist
• Ciara
• Fall Out Boy
• Keane
• John Legend
• SugarLand
Pop Album
•
Extraordinary Machine,
Fiona Apple
•
Breakaway,
Kelly Clarkson
•
Wildflower,
Sheryl Crow
•
Chaos And Creation In The Backyard,
Paul McCartney
•
Love. Angel. Music. Baby.,
Gwen Stefani
Rap Album
•
Be,
Common
•
The Cookbook,
Missy Elliott
•
Encore,
Eminem
•
The Massacre,
50 Cent
•
Late Registration,
Kanye West
Rock Album
•
X&Y,
Coldplay
•
In Your Honor,
Foo Fighters
•
How To Dismantle An Atomic Bomb,
U2
•
A Bigger Bang,
the Rolling Stones
•
Prairie Wind,
Neil Young
Country Album
•
Fireflies,
Faith Hill
•
Lonely Runs Both Ways,
Alison Krauss and Union Station
•
Time Well Wasted,
Brad Paisley
•
All Jacked Up,
Gretchen Wilson
•
Jasper County,
Trisha Yearwood
R&B Album
•
Illumination,
Earth, Wind & Fire
•
Free Yourself,
Fantasia
•
Unplugged,
Alicia Keys
•
Get Lifted,
John Legend
•
A Time to Love,
Stevie Wonder
Electronic Music/Dance Album
•
Push the Button,
the Chemical Brothers
•
Human After All,
Daft Punk
•
Palookaville,
Fatboy Slim
•
Minimum-Maximum,
Kraftwerk
•
LCD Soundsystem,
LCD Soundsystem
Alternative Music Album
•
Funeral,
The Arcade Fire
•
Guero,
Beck
•
Plans,
Death Cab for Cutie
•
You Could Have It So Much Better,
Franz Ferdinand
•
Get Behind Me Satan,
The White Stripes