• "I refuse to be anything other than what I am. I literally get into the clothes at the end of the bed. If somebody doesn't take them off and wash them, things would probably get a bit high."
– Rock star-humanitarian
Bono,
Time'
s Person of the Year, proving he's just a regular guy
• "I don't (expletive) belong here! Why don't you just put a gun to my head and shoot me! You've already taken my freedom! You might as well take my life too!"
–
Lost'
s
Michelle Rodriguez,
after her arrest on drunken-driving charges, according to police and court documents
• "I was asked on
Access (Hollywood),
'Did you kiss the monkey like you kissed Halle?' I didn't have a smart retort, but I said, 'That's in the sequel.' "
–
King Kong'
s
Adrien Brody
• "He was my brother ... I adored him. "
–
Martin Sheen,
on
West Wing
costar John Spencer, who died suddenly last week
• "You're in the middle of nowhere. Get a ranch with the guy. Stop torturing these two poor women and get a room. What's the problem?"
–
Nathan Lane,
criticizing Golden Globe-nominated
Brokeback Mountain,
on the
Today
show
• "We never had any serious groupies, anyway. Our generation got screwed."
– Weezer's
Rivers Cuomo,
on how he's been able to fulfill his vow of celibacy for more than two years, to
Blender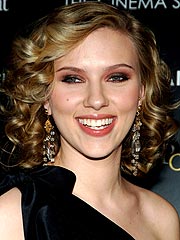 Dimitrios Kambouris / WireImage
• "He just really rarely requires that his actors go to the gym, which was a plus for me. And I didn't have to hang from a 50-foot building."
–
Scarlett Johansson,
on her role in
Match Point
and the film's director, Woody Allen
• "Good morning, and welcome to the last show on terrestrial radio."
–
Howard Stern
• "I'm trying to watch my weight because I know when I get home I'm gonna probably gain 5 pounds because I'm gonna eat that food five days in a row."
–
Beyonce,
on Mom's holiday cooking