How did the stars react to their Golden Globe nominations, which many consider a harbinger of Oscar glory?
For the most part, if they were on the West Coast (where the Globe nods were announced on Tuesday shortly after 5:30 a.m.), their agents or a relative woke them up. On the East Coast, where it was 8:30, they were slightly more prepared – and just as delighted.
Here are some star reactions, as gathered by Reuters:
•
Will Ferrell,
supporting actor (
The Producers
), in L.A.: "I was wondering, 'Gosh, who's calling?' I didn't put anything together. It wasn't until my wife was like, 'You got nominated, I know it! There's no reason why anyone would be calling this morning!' I was in a half-asleep state and I said, 'Or maybe he's telling me I didn't get nominated,' and she said, 'Why would he do that?' " Farrell heard the news, then went back to sleep so he could deal with his 2-year-old child.
•
Scarlett Johansson,
supporting actress (
Match Point
): "I actually turned my phone off because I've been traveling a lot, and I was so tired. When I turned on my phone, there were 18 new messages. I thought for sure something was wrong. ... I'm so proud of Woody (Allen, the film's director). I know he's probably really excited about it even though he won't admit it."
•
Keira Knightley,
actress in a drama (
Pride and Prejudice
), in London: "(I was) trying to work out how to make lasagna," she said, when the call came from her American agent ordering her to answer the phone if it rang. "Why?" she asked. "The Golden Globe nominations," he told her. "If you get one, there will be a car waiting outside" to take her to some interviews. So Knightley kept looking out the window, and spotted a car pulling up. "He didn't drive off," she said, "so I knew I got nominated. ... I had expected to be making the ingredients for pasta today. It's very odd. Very nice. And very cool."
•
Jeff Daniels,
actor in a musical/comedy (
The Squid and the Whale
), in New York, in his bathrobe playing the guitar: "We made this film with no distributor – it was just a guy with a camera and us. For a bunch of people in Brooklyn wondering if anyone would see the movie, it's just amazing."
•
Cillian Murphy,
actor in a musical/comedy (
Breakfast on Pluto
): "Growing up, I never wanted to be an actor – I wanted to be a rock star. ... It would be lovely if Neil (Jordan,
Pluto
's director) got a nomination because the only reason I got mine was his writing and directing, plus the novel by Pat McCabe it was based on. But that's the nature of the game. I spoke to Neil today, and he's delighted."
•
Maria Bello,
actress in a drama (
A History of Violence
), had been following the morning's coverage of the execution of Stanley "Tookie" Williams: "I've been barely able to sleep all night. I was just so distressed about it all night. I can't believe that he got executed. I thought at the last minute there would be a reprieve, and there wasn't. ... Somehow, something that huge and serious makes everything else not so important. But I am honored. I'm just sad about the state of our country."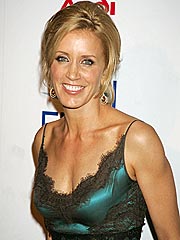 David Livingston / WENN / Landov
•
Felicity Huffman,
a double best actress nominee – in a drama (
Transamerica
) and in a comedy TV series (
Desperate Housewives
): "I'd say it's a dream come true, but I never dared to dream this big. ... It's really a nomination for the movie, and for tolerance. Its message is that families come in different shapes and sizes. I can't believe more than 10 people and my mother have seen this film."
•
Paul Giamatti,
supporting actor (
Cinderella Man
): "I had no idea it was even happening today. Honestly, I'm very surprised. I'm blindsided!" As for the movie's underwhelming box office: "You can't be disappointed. If the movie is good, that's all that matters to me, and I thought this movie was good. So it didn't do as well, I don't know why, but it's a great movie, and it doesn't detract from the movie for me."
•
Sarah Jessica Parker,
actress in a musical/comedy (
The Family Stone
): "I was getting my son ready for school. I didn't even know about the nominations. Happily, I was ignorant and carrying on about the day, as mothers do."
•
Shirley MacLaine,
supporting actress (
In Her Shoes
): "I'm so happy for all the senior citizens in the world."