• "My husband just hit me so hard, I almost fell over."
–
Reese Witherspoon,
accepting her Golden Globe for
Walk the Line,
on Ryan Phillippe's enthusiastic reaction to her win
• "I just want to make out with all of you."
– Globe winner
Mary-Louise Parker,
to the cast and crew of her Showtime series
Weeds
• "I feel like someone set me on fire!"
–
Sandra Oh,
upon winning a Globe for
Grey's Anatomy
• "I'd kind of rather be at home taking a nap."
– Golden Globe nominee
Jason Lee,
on the red carpet
• "We're just humans trying to figure it out."
–
Hilary Swank,
on her recent separation from husband Chad Lowe, at the Golden Globes
• "Yes, I'm pregnant."
–
Angelina Jolie,
to a charity worker in Santo Domingo, Dominican Republic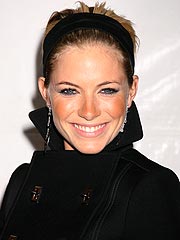 • "She better live in fear."
–
Sienna Miller,
on the nanny who had an affair with Miller's then-fiancé, Jude Law, to
Interview
• "I'll look back at (old) pictures and think I was such a little tough-ass."
–
Avril Lavigne,
on her previous punky image, to
Harper's Bazaar
• "I love it. I get up in the morning with him and he's, like, all ready to play and stuff. I mean, he's just getting ready to talk ... he's goo-ing and gaah-ing."
–
Kevin Federline,
on 4-month-old Sean Preston, to
Access Hollywood