Brokeback Mountain
emerged as the most honored film of 2005 at Monday night's 63rd annual Golden Globe Awards.
In all, the movie romance, starring Heath Ledger and Jake Gyllenhaal as two cowboys who spend years grappling with their feelings for one another, scored in four categories: best dramatic picture, best screenplay, best song ("A Love That Will Never Grow Old," sung by Emmylou Harris) and best director Ang Lee.
Accepting his Globe from presenter Clint Eastwood onstage at the Beverly Hilton hotel, a nervous Lee exclaimed, "Wow, getting this award, from the man, is too much."
Joaquin Phoenix and Reese Witherspoon both won top prizes for their roles in the Johnny Cash bio
Walk the Line,
which also took the Globe as best picture, musical or comedy.
"Who'd ever thought that I'd win in the comedy or musical category?" Phoenix said. "Not expected."
Among those he thanked were "of course John and June (Cash), for sharing their lives with all of us."
Capote
star Philip Seymour Hoffman won best actor in drama for his portrayal of
In Cold Blood
author Truman Capote.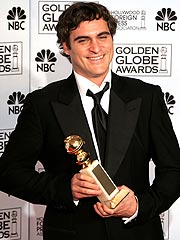 Felicity Huffman took the Globe for best dramatic actress in a film,
Transamerica,
in which she plays a transgender individual. "I would like to salute the men and women who brave ostracism and life on the margins to become who they are," she said, also thanking her small-screen
Desperate Housewives
costars, who were all shut out in the best TV actress category. (Mary-Louise Parker won for
Weeds.
)
Housewives,
however, was named best comedy series. Steve Carell was named best actor in a comedy series (
The Office
).
In the drama division,
Lost,
won for best series; Geena Davis, series actress (
Commander in Chief
); and Hugh Laurie (
House
) dramatic series actor.
John Williams's film score for
Memoirs of a Geisha
won a Globe, that picture's only win.
Paradise Now,
from Palestine, was named best foreign-language movie.
Gwyneth Paltrow presented the Cecil B. DeMille Award, for lifetime achievement, to her costar in last year's
Proof,
Sir Anthony Hopkins. She noted that it was his 100th film, after his having started onscreen opposite Katharine Hepburn in 1968's
A Lion in Winter.
Here's a rundown of the night's top winners:
MOVIESBest Motion Picture, Drama:
Brokeback Mountain
Best Motion Picture, Musical or Comedy:
Walk the Line
Best Performance by an Actor in a Motion Picture, Drama:
Philip Seymour Hoffman,
Capote
Best Performance by an Actress in a Motion Picture, Drama:
Felicity Huffman,
Transamerica
Best Performance by an Actor in a Motion Picture, Musical or Comedy:
Joaquin Phoenix,
Walk the Line
Best Performance by an Actress in a Motion Picture, Musical or Comedy:
Reese Witherspoon,
Walk the Line
Best Director, Motion Picture:
Ang Lee,
Brokeback Mountain
Best Supporting Actor in a Motion Picture:
George Clooney,
Syriana
Best Supporting Actress in a Motion Picture:
Rachel Weisz,
The Constant Gardener
TVBest Television Series, Drama:
Lost
Best Performance by an Actress in a Television Series, Drama:
Geena Davis,
Commander in Chief
Best Performance by an Actor in a Television Series, Drama:
Hugh Laurie,
House
Best Television Series, Musical or Comedy:
Desperate Housewives
Best Performance by an Actress in a Television Series, Musical or Comedy:
Mary-Louise Parker,
Weeds
Best Performance by an Actor in a Television Series, Musical or Comedy:
Steve Carell,
The Office