• "You should know better than anybody that women come in all different shapes and sizes, and yet we're all beautiful, each in our own way."
–
Drew Barrymore,
wearing huge fake breasts to spoof her braless look at the Golden Globes, to Tina Fey on
Saturday Night Live
• "At the opera a little while ago. ... We were in the ladies' room, and when we heard an old woman start to tinkle, we couldn't help but crack up. I guess she told the security guy."
– Barrymore's boyfriend, Strokes drummer
Fabrizio Moretti,
on the strangest place he's ever had sex, to
Jane
• "I meet so many people. I don't even know some of my friends' names."
–
Paris Hilton,
in her deposition from the $10 million slander suit against her
• "Constitutionally, within the context of the show, I knew I was done."
–
Martin Sheen,
on the cancellation of
The West Wing
after seven seasons, to PEOPLE
• "My wife's out of town, so Alfonso's the date. He wouldn't wear the dress I picked out."
–
Will Smith,
on bringing his former
Fresh Prince of Bel-Air
costar Alfonso Ribeiro to the Producers Guild Awards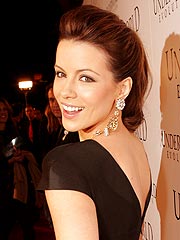 Eric Charbonneau / WireImage
• "I'm surprised there aren't more celebrities in burkhas. You wouldn't have to work out. You could let yourself go. We should design a non-religious celebrity burkha with a floral print."
–
Underworld: Evolution
star
Kate Beckinsale,
to British
GQ
• "The line between making a total ass out of yourself and being fundamentally funny is very narrow."
–
William Shatner,
to
Esquire
• "My wife wants me to fire my agent."
–
James Denton,
on his female-filled gigs acting on
Desperate Housewives
and hosting the Miss America pageant