Walk the Line
may have brought Golden Globe Awards to stars Joaquin Phoenix and Reese Witherspoon, but don't expect Johnny Cash's real-life daughter, Rosanne Cash, to recommend her father's biopic.
"It was like it would be for anyone who saw someone else's idea of their childhood. You would say, well, some of those facts are right, but that's not what happened. That's not my experience," the 50-year-old daughter of the legendary Man in Black and his first wife, Vivian Cash, tells Newsweek.
She adds: "You know, I just don't have a need to see the Hollywood version of my father's drug addiction and my parents' breakup."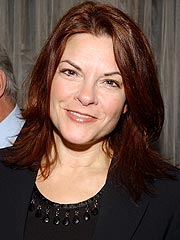 Jemal Countess / WireImage
The younger Cash, who is drawing raves for her new album
Black Cadillac,
was 11 when her folks divorced. Johnny Cash died in September 2003, and June Carter Cash (Rosanne's stepmother) died four months before that. Last May, Vivian Cash Distin also died.
"People took his death very personally," says his daughter. "And although I appreciated that people felt so deeply about it, sometimes it was profoundly intrusive. People I didn't know at all would come up to me in a store and begin to cry about my father's death and not bother to say, 'I'm sorry you lost your dad.' They would just go on and on about their experience of Johnny Cash."