Here's the key to surviving Sundance: Always pack a bottle of water, an apple and a bagel, because sit-down meals can be a luxury during the 11-day film festival (Jan. 19-29). During my time in snowy Park City, Utah, I watched movies from 8:30 a.m. until near midnight, with only enough time to munch an apple and check my BlackBerry while riding one of the free shuttle buses to the next venue.
Here's a rundown on the movies that impressed me the most:
Friends with Money:
Jennifer Aniston, Catherine Keener, Frances McDormand
and
Joan Cusack
star as four friends in contemporary L.A. Aniston plays a teacher turned housecleaner whose pals are more financially comfortable. Written and directed by
Nicole Holofcener,
Money
is amusing and wise, but not as affecting as her previous film,
Lovely and Amazing.Little Miss Sunshine:
This hilarious comedy about a dysfunctional family's road trip is getting all the ink, mostly because Fox Searchlight bought it for a reported $10 million. The company plans to release the movie, which stars
Greg Kinnear, Toni Collette
and
Steve Carell,
this summer.
Wristcutters: A Love Story:
A young man (
Patrick Fugit
of
Almost Famous
) commits suicide after his girlfriend dumps him and finds himself in a sort of purgatory that's like the living world, only drabber. The offbeat comedy by Croatian writer-director
Goran Dukic
is packed with gentle surprises and sly humor.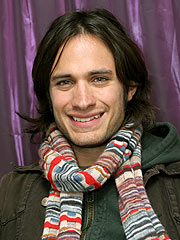 Sara Jaye Weiss / startraks
The Science of Sleep.
The latest from director
Michael Gondry
(
Eternal Sunshine of the Spotless Mind
) is a wildly inventive goof about a young man (
Gael Garcia Bernal
) in Paris who, unhappy with his job, retreats into his dreams. This is a head film with heart.
Also notable this year were the number of actresses in meaty roles:
•
Ashley Judd
is sensational in
Come Early Morning
as a hard-partying thirtysomething in small-town Arkansas. When a potential beau asks, "When was the last time you kissed somebody sober?" she realizes it's time to re-evaluate her life.
•
Maggie Gyllenhaal
is heartbreaking in
Sherrybaby,
a drama about a former drug addict struggling to rebuild her life after getting out of jail.
•
Amber Tamblyn
(TV's
Joan of Arcadia
) and
Tilda Swinton
both give emotionally complex performances in
Stephanie Daley,
about a teenager (Tamblyn) accused of killing her baby after secretly giving birth. Swinton plays the pregnant criminal psychologist assigned to interview the girl.