• "I want to have the time to be honest with myself, and then, after that, I'll be ready to start a family. When I'm 35."
–
Alicia Keys,
26, on her future plans, to
Jane
• "You know things are bad when even the fictional Democrats aren't doing well."
–
Jay Leno,
on the cancellation of
The West Wing
• "It feels more like camp."
–
Friends with Money
star
Jennifer Aniston,
on shooting an indie film versus a big-budget movie, at the Sundance Film Festival
• "So here we are, fat cats in the snow – and I say that as one."
–
Bono,
unveiling a new initiative to fight AIDS in Africa at the World Economic Forum in Davos, Switzerland
• "It is difficult for me to talk to you, because I really feel duped."
–
Oprah Winfrey,
to disgraced
A Million Little Pieces
author James Frey, on her talk show
• "This is the saddest collection of climbing, grasping, paranoid, backstabbing, scene-grabbing losers and schmoozers that you ever saw on your stage in your life. ... But we love each other very much."
–
Terry O'Quinn,
a.k.a. John Locke, on his
Lost
castmates, upon winning the SAG award for best ensemble in a drama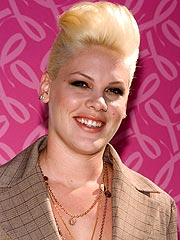 Lawrence Lucier / FilmMagic
• "I thought I had nothing to say – then they had to shut me up."
–
Pink,
on having 40 songs to choose from for her upcoming album, to
Rolling Stone
• "I think she would be a very interesting patient. I'd recommend she come three times a week."
–
Marcia Cross,
who has a master's degree in psychology, on her repressed
Desperate Housewives
character, Bree Van De Kamp, to the Associated Press
• "There are times where I have leeway to spazz out because I'm a successful artist, but I really am trying my best not to be a jerk."
–
Kanye West,
on self-improvement, to
Entertainment Weekly