• "Two words: contractually obligated."
– Grammy nominee
Kelly Clarkson,
on why she made the film dud
From Justin to Kelly,
to
Time
• "I threw that man through a window seven times and he landed on his head, got up, rebuilt the window with the crew and then got thrown through it again."
–
Firewall
actor
Paul Bettany,
on his tough-as-nails costar Harrison Ford
• "You can get infamous but you can't get unfamous. So I got scared. I'm not going to lie. I was scared to death."
–
Dave Chappelle,
on why he walked away from his $50 million Comedy Central contract, on
Inside the Actors Studio
• "I learned very fast I was not going to be bored with her."
– NBA star
Tony Parker,
on dating girlfriend Eva Longoria, to
Access Hollywood
• "I love Reese (Witherspoon) and it's definitely her year, it feels like Felicity Huffman's year, too. I think it's between those two.''
–
Charlize Theron,
on her Oscar competition, to the
Daily Mirror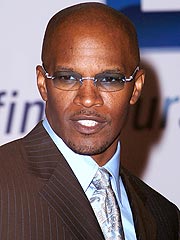 • "Just a little girth is what I need, something to keep me warm in the winter."
–
Jamie Foxx,
on what he looks for in a woman, to
Access Hollywood
• "If you're wondering what I'm doing here at a prayer breakfast, well, so am I. I'm certainly not here as a man of the cloth, unless that cloth is leather."
–
Bono,
at the National Prayer Breakfast. The U2 singer then pleaded for rich nations to help end poverty in Africa
• "I shoot one guy's kneecap – but only one."
–
Sen. John McCain,
joking to
The Hill
about his cameo on
24