How has
Felicity Huffman
stayed balanced in the days leading up to Oscars night? Pampering. The Best Actress nominee for
Transamerica
rewarded herself at the Diamond Aquifer Mystical Retreat at the exclusive SoHo House in the Hollywood Hills, where she tried on jewels and indulged in spa treatments. "I'm getting a pedicure and a facial. I'm going to walk out of here looking like Scarlett Johansson," she told us.
Huffman still hadn't decided which designer she'll wear to the Academy Awards. "I do realize how hopelessly behind I am," she told us. "I have to get it together and look at ready-made gowns, I guess."
Here's how other nominees are ramping up for the big night: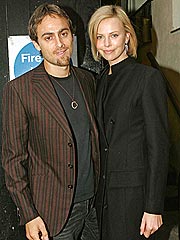 • Best Actress contender
Charlize Theron
(for
North Country
) and boyfriend
Stuart Townsend
caught a showing of Best Foreign Film nominee
Paradise Now
at a Laemmle Theatre in L.A. On their way into the movie, the affectionate couple – both dressed in jeans – picked up candy at the concession counter. Afterward, they walked out arm-in-arm laughing and talking.
•
Jake Gyllenhaal,
up for Best Supporting Actor for
Brokeback Mountain,
chowed down with two male friends at the Venice, Calif., eatery Axe. Outside, loyal pup Atticus waited patiently.
• Meanwhile,
Joaquin Phoenix
– whose portrayal of
Johnny Cash
in
Walk the Line
earned him a Best Actor nod – has been tasting the nightlife in New York City, where he's filming the drama
We Own the Night
with
Mark Wahlberg
and
Eva Mendes.
He hit hot spots Home – where he stuck to drinking bottled water – and P.M., and also hung out with costar Mendes at La Esquina and Butter. But don't get the wrong idea. "There's nothing going on with them" romantically, says a source. "Nothing at all." As for the Oscars, Phoenix is keeping a cool head about his chances. "He has said, 'Whatever happens, happens.' "
• By BRYAN ALEXANDER, MARLA LEHNER, ELIZABETH LEONARD, CYNTHIA WANG, KC BAKER and MARK DAGOSTINO