• "Now people aren't willing to skinny dip at 2 a.m. There are paparazzi on the island."
–
Matthew Fox,
on how fame has curbed the bonding rituals among the
Lost
cast
• "I promise I won't make a record out of this one – even though it's tempting."
–
George Michael,
whose '98 arrest for lewd conduct in a men's bathroom inspired his video for "Outside," on facing drug possession charges
• "I hadn't even shaved my legs. You think, 'F– it. I'm 20. It's Annie Leibovitz. It's something to show the grandchildren.' "
–
Keira Knightley,
on shooting her nude
Vanity Fair
cover, to
Time
• "I have never known a stronger woman in my life. "
–
Lance Armstrong,
in a statement, after it was revealed that ex-fiancée Sheryl Crow underwent surgery for breast cancer
• "Well, if they counted me out, then they just have to count me back in."
–
Mariah Carey,
on her surprise comeback, to Barbara Walters
• "If I had the kind of movie career they had, I'd be sitting in the audience. I wouldn't be the jerk onstage directing traffic."
–
Jon Stewart,
on hosting the Academy Awards in front of his Hollywood peers, to the
New York Times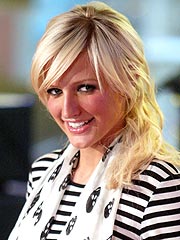 • "I wanted to be a ballerina, or Drew Barrymore." –
Ashlee Simpson,
on her childhood aspirations, to
Elle
• "I want to thank all the white kids who beat (me). I'm rich!"
–
Chris Rock,
upon winning an NAACP Image Award for
Everybody Hates Chris,
which is based on his childhood
• "I just lost my best friend."
–
Andy Griffith,
on the death of his longtime pal and costar Don Knotts