Friends and admirers remembered actress and activist Dana Reeve, who succumbed to lung cancer on Monday. Here are their comments:
"She was just such a wonderful soul. She was just luminescent, transcendent, loving. She was the epitome of love, graciousness and kindness and just goodness, so it was such a terrible shock when she was first diagnosed. She was just so determined to be as positive as possible...She wouldn't let anybody feel sorry for her. She always turned the conversation to what she needed to do to further the work of the (Christopher Reeve) Foundation that she had worked so hard to keep going after Chris's death. She was so determined that it was going to stand as a testament to his legacy and play an instrumental role in helping to cure paralysis."
– Sen. Hillary Clinton
"The brightest light has gone out. We will forever celebrate her loving spirit."
– Robin Williams
"Despite the adversity that she faced, Dana bravely met these challenges and was always an extremely devoted wife, mother and advocate."
– Former President Bill Clinton
"She showed us all the true power of love. (She was) an unflinching optimist, who never let anything get her down, and if she did she never showed us."
– close friend Jane Seymour
"Teresa and I loved them both, and we are deeply saddened by Dana's passing. She was a steadfast partner to her husband, a loving mother, a talented artist, and an amazing caregiver who showed incredible grace fighting for her husband and then for her own life."
– Sen. John Kerry
"She was a woman with an incredible heart who really put herself out there to help people with disabilities and especially those who are caregivers – something she knew a lot about."
– Kathy Lewis, president of the Christopher Reeve Foundation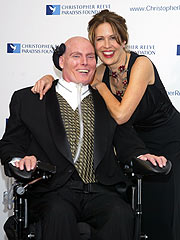 Matthew Peyton / Getty Images for People Magazine
"(Dana was) a beautiful and talented woman ... We celebrate her life."
– Roger Rees, Director of the Williamstown Theater Festival where both Dana and Christopher performed
"I thought that after everything that she had gone through with Chris that she would have time to smell the flowers and be in the sun. But apparently that was not meant to be."
– Sen. Diane Feinstein
"Dana was an elegant and graceful woman, and she left this world the same way. She was at peace."
– Michael Manganello, Christopher Reeve's former assistant and vice president of the Christopher Reeve Foundation
"Dana Reeve used the great personal challenge of her husband's paralysis to work so that other families would not have to endure the same pain. By bringing hope to the sick and disabled with the miraculous potential of stem cell research, she has helped to continue the mending and renewing of the world that is possible through science."
– House Minority Leader Nancy Pelosi