Three college students are being held in connection with a string of fires that began as "a joke" and damaged nine Alabama churches last month, federal agents announced Wednesday.
Benjamin Nathan Moseley and Russell Lee DeBusk Jr., both 19-year-old students at Birmingham-Southern College, appeared in federal court Wednesday and were ordered to be held on arson charges pending a hearing Friday. The third suspect, Matthew Lee Cloyd, a 20-year-old junior at the University of Alabama at Birmingham, arrived in court late Wednesday.
"This is a good day for Alabama," said Gov. Bob Riley in a press conference on Wednesday. "We can tell the people of Alabama that we believe this is an isolated incident. We don't think there is any kind of conspiracy against organized religion."
"What we have is a ring of terror that has toppled and come to an end," Alabama's Attorney General Troy King also said at the press conference.
Moseley admitted to participating in the arsons, according to an affidavit the federal ATF (Alcohol, Tobacco and Firearms) agency presented in court, the Associated Press reports. The suspect told agents that he, Cloyd and Debusk went to Bibb County on Feb. 2 and set fire to five churches. A witness quoted Cloyd as saying Moseley did it "as a joke and it got out of hand," according to the affidavit.
Moseley also told agents the four fires in west Alabama were set "as a diversion to throw investigators off."
Last month, PEOPLE spoke to Terri Morrison, 44, a former bible-school teacher who wiped away tears as she walked through the charred remnants of Rehobeth Baptist Church in Lawley, where she and her four daughters were baptized. "I felt like this was the murder of an old friend I hadn't seen in a while," she said.
Jim Parker, pastor of Ashby Baptist Church at Brierfield, a Bibb County church destroyed in the Feb. 3 arson, told the AP on Wednesday that he had spoken to federal agents and understood the suspects were promising students from good families. "We really are concerned about them as people," he said. "I would just like to know what they were thinking."
A tenth rural Baptist church fire in Lamar County that was discovered on Feb. 11 has been ruled arson but is not believed to be connected to the others.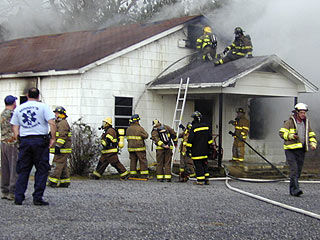 Jason Cannon / The Clanton Advertiser / AP