• "That's why I'm marrying her, because she has no worries about that – none."
–
Tom Cruise,
on getting Katie Holmes's blessing to do his own stunts in
Mission: Impossible 3,
to
Entertainment Tonight
• "I was like, if I crash, the Secretary of State goes down with me."
– 16-year-old pro golfer
Michelle Wie,
on driving the golf cart during her game with Condoleezza Rice
• "They've said, 'I'm not really shocked you were in a video having sex with four girls. I'm not surprised that someone got it on tape. But,
man
– what the hell were you doing hanging out with Scott Stapp?"
–
Kid Rock,
on his fans' reaction to his leaked sex tape, to
Newsweek
• "I'm going to be swatting women left and right now. They're going to be lunging at me. No – kidding."
–
American Idol
castoff
Kevin Covais,
on his sex-symbol status
• "This sucks. It's the worst show I've ever done in my life."
–
Patti LaBelle,
to fans at the Riviera Beach (Fla.) Jazz and Blues Festival, who watched as she broke down crying onstage, citing her diabetes and heart murmur as problems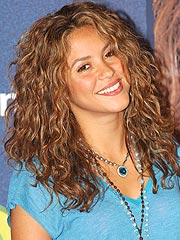 Eduardo Parra / FilmMagic
• "I've had it for four years, but fortunately it didn't come with an expiration date!"
–
Shakira,
on her engagement ring from lawyer boyfriend Antonio de la Rua, to
Elle.
The two have yet to set a wedding date.
• "Friday was my 44th birthday, but my boobs think they're 20."
–
Star Jones Reynolds,
describing the results of her recent breast lift to her cohosts on
The View
• "I don't have moments. I have fights with people that, if we were doing another show, I think, 'God. This would be a great episode. Now it's just something sucky that's happening.' "
–
Ray Romano,
on readjusting to life without a sitcom