• "I take out the garbage at mom's, and walk the dog. She makes me."
–
Queen Latifah,
on how she keeps fame from going to her head, on
The Daily Show with Jon Stewart
• "I throw my phone at my assistant's head if my coffee is cold."
–
Jon Stewart,
joking to Latifah that fame
has
gone to his head
• "First the baby, then the film, then, in summer, we want to get married. I won't let this woman get away."
–
Tom Cruise,
on Katie Holmes, to German newspaper
Bild
• "I want to adopt, and I plan to adopt before I have my own kids."
–
Jessica Simpson,
to
Extra
• "I feel like I'm a big human snot."
–
Robin Williams,
backstage at the Nickelodeon Kids' Choice Awards, after getting slimed
• "Maybe you and I could be on
Dancing with the Stars
."
–
Katie Couric,
to Antonio Banderas, after doing a tango on the
Today
show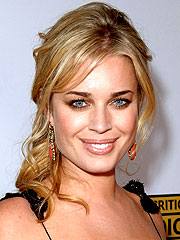 Michael Caulfield / WireImage
• "Jerry was quite the bachelor when we met. There was nowhere to put your cocktail down in his place. Just the ping-pong table."
–
Rebecca Romijn,
on fiancé Jerry O'Connell, to
Time
• "Literally, by 8:30 the next morning, I was having bacon and eggs, the sign that I was fine."
–
Star Jones Reynolds,
on her recovery following complications during a breast lift, on
The View
• "I was madly in love with her. She is one of the most wonderful women I've ever met; a real lady."
–
Wilmer Valderrama,
on "first love" Mandy Moore, to the
New York Times