A reminder of the good times shared by Brad Pitt and Jennifer Aniston – their lavish Beverly Hills mansion – is changing hands.
About a year after Aniston filed for divorce, an anonymous foreign businessman is said to have paid $22.5 million for the 12,000-sq.-ft. French Normandy-style house. Weeks earlier the ex-couple had agreed to lower the price after the home languished on the market for several months at $28 million.
The sale suggests the end of an era: When Aniston, 37, and Pitt, 42, bought the house for $13.5 million in 2001, they were Hollywood's reigning royal couple. They spent two years and a reported $10 to $15 million renovating their castle. After they were done, the home, originally designed by famed architect Wallace Neff for the actor Fredric March, boasted a professional screening room, a spa, an art studio – and a room they had designated as the nursery. ("It's time. It's time," Pitt told PEOPLE in 2004 when asked about the couple's baby plans.)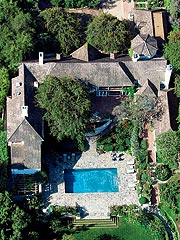 Aniston later admitted that she never cared for Pitt's modern – and somewhat uncomfortable – design style. When asked what she liked about being on her own, Aniston quipped to Vanity Fair last year, "I can have a comfortable couch."
Good thing she held on to the little cottage she bought in 1995. "It's teeny-teeny tiny," she told Vogue in 2002. "But it's my favorite place in the world."