• "I was using examples to attack a mentality that I find nauseating."
–
Pink,
on why she parodies Paris Hilton in her "Stupid Girls" video, to NBC's
Dateline
• "I don't do windows, but I always make the bed. I'm a picker-upper, I don't like things to get cluttered; it drives me nuts."
–
Jennifer Aniston,
to
Entertainment Weekly
• "I was the one who hung out with the boys. What I didn't realize was that after I hit puberty ... they all wanted to get in my pants. They couldn't, so they just said they did."
–
Evangeline Lilly,
to
Elle
magazine
• "If you're going to grow, you have to change."
–
Meredith Vieira,
upon announcing she's leaving
The View
to replace Katie Couric on
Today
• "I think every agent in America is calling."
–
View
cohost
Barbara Walters,
on possible replacements for Vieira
• "Audiences could never relate to me as anything other than Tori Spelling. But TV movies don't have to be relatable, because you're, like, being stalked with amnesia."
–
so noTORIous
star
Tori Spelling,
on her prolific career in campy made-for-TV movies, to
Entertainment Weekly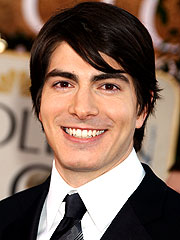 • "I love doing comedy. And I didn't have to wear a harness."
–
Superman Returns
star
Brandon Routh,
on playing the airborne character's clumsy alter-ego Clark Kent, to
EW
• "He was the kind of person where, if something goes wrong, they kick you. It was a great lesson in my life – how he'd lull you in, make you feel safe and then, bang!"
–
Tom Cruise
on his abusive father, to
Parade
magazine
• "If I don't win it, there's something wrong."
–
Regis Philbin,
on his chances of victory in a celebrity version of
American Idol