•
Lindsay Lohan,
getting the VIP treatment at the L.A. club The Dime. Before she even stepped foot in the hot spot, two bouncers negotiated getting her a large table close to the door. A booth was then quickly cleared for the star – dressed in a black-and-white striped tank top and black pants – and her five pals. During the night, she smoked cigarettes and at one point took a fedora off one of the bouncer's heads and put it on her own while dancing to
LL Cool J
and
J.Lo
's "Control Myself."
•
Lost'
s
Naveen Andrews,
hanging out at the New York City premiere of
The Notorious Bettie Page,
starring
Gretchen Mol.
The actor hinted that "something catastrophic" is going to happen on his hit show, saying, "It always is at the end of the season." And he hopes to add a new film to his résumé "to justify my existence."
•
Naomi Watts,
having cocktails with a male companion at the Cameo lounge at the Viceroy Santa Monica hotel. After nursing her glass of red wine for an hour, they moved to the Whist eatery, where she feasted on Jidori chicken and drank some more vino.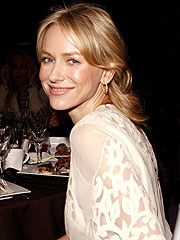 •
Paris Hilton
and boyfriend
Stavros Niarchos,
walking hand-in-hand into the movie theater at The Grove outdoor shopping center in L.A. Ticket buyers gawked and whispered as the couple headed into a 10:45 p.m. showing of
V for Vendetta.
•
Christina Aguilera,
partying at a 25th birthday celebration for Harry Morton – the son of Hard Rock head honcho Peter Morton – in the penthouse suite of the Hard Rock Hotel & Casino in Las Vegas. Also on hand at the raucous party, where the KISS cover band Tiny Kiss performed:
Jamie-Lynn Sigler, Taye Diggs
and
Shannon Elizabeth.
• By VANESSA DIAZ, MICHELLE TAN, MAUREEN HARRINGTON and CARRIE BORZILLO-VRENNA