•
Beyonce,
beau
Jay-Z,
sister Solange and three friends, parking themselves next to the deejay booth at South Beach club B.E.D.'s popular "Secret Society" party. The sharp-dressed couple – Beyonce in shorts and heels; Jay-Z in a white sports coat and aviator sunglasses – arrived at midnight and drank Grey Goose and Cristal before hitting the dance floor till 3 a.m.
•
Brooke Shields
– just days before giving birth – lunching on salad in the garden restaurant at the Kinara Spa in West Hollywood.
•
Carey Hart,
hanging out at
Maxim
magazine's 100th issue party at Tryst at the Wynn Las Vegas resort. "Married life is fantastic,"
Pink
's motocross-star husband told us. "We're both just staying busy. Her album just dropped so she's going a million miles an hour. I'm trying to get back on my bike here and there and get into car racing. World domination, one tattoo at a time!"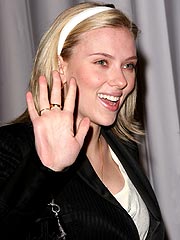 Michael Williams / startraksphoto
•
Scarlett Johansson
and boyfriend
Josh Hartnett,
checking out indie-rock band
Clap Your Hands Say Yeah
at New York City's Bowery Ballroom.
•
Ashton Kutcher,
admiring the baubles at the launch party for Frank Gehry's new jewelry collection at Tiffany and Co. in New York City. He mingled with celebrities including
Susan Sarandon, Kyra Sedgwick
and
Jamie-Lynn Sigler
as
DJ AM
spun tunes. Sigler, who showed up with a female friend, told us she's on a short hiatus from shooting the final season of
The Sopranos:
"We go back in June so it doesn't feel like it's the end because we'll be filming all the way to January."
• By CHRISTOPHER CASTELLANI, MAUREEN HARRINGTON, CLARE KLEINEDLER, LESLEY MESSER and JON WARECH