The Votes Are In …
Paris Bennett was the right one to be voted out, the weakest of the five: Adorable, yes, and very talented, but after all, she's a kid – just 17 years old – and she no longer was holding her own with the others.
Idol
fatigue, perhaps? Her performances had been sagging some, losing confidence. She sure didn't have the judges on her side – and Paula's comment that she was better singing older material didn't bode well, either.
The final four break down into two camps, the strong and, well, the less strong. Into the first camp go Katharine McPhee and Chris Daughtry, who both have stage presence, better-than-conventional good looks and smooth control of their vocals – isn't that what Simon Cowell calls "the whole package"?
In the second camp we find packages missing an item or two: Taylor Hicks, who from time to time delivers a socko blues-and-soul performance but often looks as if he were stamping out a pile of burning leaves, and Elliott Yamin, who, like Paris, seems more comfortable somewhere in the past. He'll probably go next, and Paula's eyes will well up and the tears will drip down with slow lachrymose poetry into Simon's Coke cup.
Tuesday Night's Show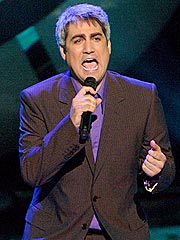 Oh, be my guide through life, Taylor Hicks, and help me to spot the loopholes along the way that I might benefit by your example. Because the fact of the matter is, you are no fool, and this was proved on Tuesday night's
American Idol.
For the bottom half of the program, the five finalists had to sort through Billboard's numerous top-10 lists and pick a song. Taylor came across something called a
top pop catalog,
and on this chart was the Beatles' "Something," a fool-proof ballad that would probably sound good performed by William Shatner stepping on dead crickets. Taylor crooned and howled his way through it, sometimes sounding like Kenny Rogers and sometimes sounding like Joe Cocker, but in the end it sounded like Taylor Hicks. Better yet, the song was a major comeback: In the first half of the show, in which the contestants sang hits from the year they were born, Taylor's performance of 1978's "Play That Funky Music" was awful, unfocused and undisciplined.
The other four finalists all had a similarly rough time turning out stellar performances in both appearances before the judges, although Elliott Yamin was probably the most consistent, first with George Benson's "On Broadway" (1978) and then Michael Buble's "Home."
Chris Daughtry killed with a yowling, rock-operatic version of Styx's "Renegade" (1979). Then, like a rock god drunk on fans' blood, he went way overboard with Shinedown's "I Dare You." He dared us, all right – to listen to him: His voice went all raw and raggedy. Mucho unpleasant.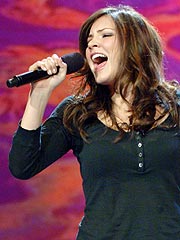 Katharine McPhee started out with "Against All Odds," 1980s pop kitsch courtesy of Phil Collins, and didn't seem to have a clue how to put it across. But her sexy, cheerful version of KT Tunstall's "Black Horse and the Cherry Tree" was possibly the best performance she's delivered yet.
I thought the judges were unfairly cool to Paris Bennett's take on Prince's "Kiss," (1988) and overly receptive to her cover of Mary J. Blige's "Be Without You." Basically it seemed like the same performance both times. I didn't get the sense either would be enough to save her from voters' previous indifference and slipping, at last, to the very, very bottom.