Teri Hatcher says she hasn't seen
American Idol
host Ryan Seacrest since they were photographed kissing in March, prompting rumors that they were a couple.
"I haven't seen him since that day," Hatcher said on Tuesday's
Oprah Winfrey Show.
"So all the stuff about everything else is just made up."
She added that, on the day of the smooch – their third date, but first time out alone – Seacrest called and told her, "I don't think I can do this with you."
When Winfrey asked why he made that decision, Hatcher answered, "I don't know. … I ate too much lobster? …You'd have to ask him."
As for her alleged romance with George Clooney, "That was
really
fabricated," she said. "We went to one dinner back in December, and that was it. … No kissing."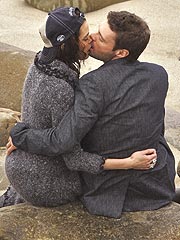 Chris Farina / Corbis; HM / Flynet
Hatcher was on Winfrey's show to promote her new memoir,
Burnt Toast,
which she says is "an expression that came out of my mouth when I was doing a Barbara Walters special. I was sort of explaining what I do, which is, you know, that I eat the burnt toast. I take what is last."
In the book, Hatcher discusses being a single mother and looking for a committed relationship. She also says that her marriage to her now ex-husband, actor Jon Tenney, was nearly sexless. She told Winfrey she could pinpoint the day they conceived their daughter, Emerson Rose, now 8, because "that was the only time we had sex that year."
Hatcher attributes some of the intimacy problems she's had with men to the abuse she suffered at the hands of her uncle, Richard Stone, as a child. Thanks to Hatcher's testimony, Stone is now serving 14 years for molesting another girl.
Today, Hatcher is ready for fulfilling relationship – in every way. "(I) really want to find somebody that I can trust and go deep with and (have) crazy wild sex," she told Winfrey.
Hatcher also cleared the air about other rumors plaguing her: "No catfights on the (
Desperate Housewives
) set. I'm not anorexic. I don't make $285,000 an episode. I haven't renegotiated my contract. I'm not trying to get off the show because I want to do movies."