Nicole Richie, whose rail-thin frame has been a source of much discussion in the media, is now joining the chorus of voices saying that she is too skinny.
"I know I'm too thin right now, so I wouldn't want any young girl looking at me and saying, 'That's what I want to look like,' " Richie tells
Vanity Fair
in its June issue. "I do know that they will, which is another reason I really do need to do something about it. I'm not happy with the way I look right now."
Richie blames her severe weight loss on, in part, her December breakup with then-fiancé Adam "DJ AM" Goldstein. "I get really stressed out, and I do lose my appetite," she says. (She and AM have been spotted together again recently.)
In an effort to put on a few pounds, Richie says she forced herself to eat – particularly high-calorie foods like burritos – but eventually sought professional help. "I started seeing a nutritionist and a doctor. I was scared that it could be something more serious."
She is also working with a psychiatrist and a personal trainer. Her medical team characterizes Richie's weight as "in the realm of anorexia," the magazine reports. However, Dr. Jeffery Wilkins, vice-chair of the department of psychiatry at Cedars-Sinai Medical Center in Los Angeles, points out, "Our evaluation could change at any time."
Wilkins adds, "We're all concerned, and she's concerned, but it's either going to improve or it won't. If it's not anorexia, she should be able to gain the weight. If it ends up being anorexia, we'll help her with that. I think she's willing to look this in the eye."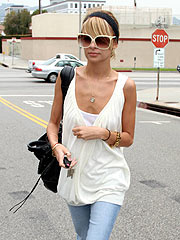 Still, Richie says she doesn't even know how much she weighs. "I get weighed once a week with my nutritionist, but I don't ask. Numbers aren't going to mean anything to me."
Ultimately, Richie says her restless childhood, the divorce of her adoptive parents, Lionel and Brenda Richie, plus an adolescence spent partying and fighting drug addiction all contributed to her trouble with her weight.
"I want to be able to take whatever comes to me and not physically break down every time hard things come my way, because hard things are always going to come my way," she says. "I'm really trying to make it so I have the proper tools to deal with life."
Richie, who is working on her first album and a follow-up to her novel
The Truth About Diamonds,
also sheds some light on the dissolution of her friendship with her
Simple Life
costar Paris Hilton: "We never had a fight. I just decided I didn't want to be her friend anymore."
Although she's considered a style icon and media darling, Richie says she's still trying to figure things out for herself. "Part of the reason I don't really talk about being sober is that I don't want to feel the pressure of being a role model," she says. "I am learning so much about myself that for me to tell other people what to do in their lives is something I'm not really fit to do. I'm a work in progress. I'm not 'there' yet. I don't know if I'll ever be 'there.' "