Ten years ago Vili Fualaau, then a sixth grader in suburban Seattle, and Mary Kay Letourneau, his 34-year-old teacher and a married mother of four, began an affair that produced two children and became a national scandal. This month, the couple will celebrate their one-year wedding anniversary.
Although Letourneau spent seven years in prison for second-degree rape of a child, she and Fualaau never stopped professing their love. Last May, nine months after her release, they were married at a Seattle-area winery.
In its new issue, PEOPLE offers an exclusive look at their life together after a year of marriage. "We do normal things," says Letourneau, 44, who shares a rented three-bedroom beachside house in Normandy Park, Wash., with Fualaau, 22. Recently "we all went out to dinner at our favorite Mexican restaurant, then over to Blockbuster to get a movie."
But there are challenges. Letourneau, who lost her teaching license, and Fualaau, who hopes to become a tattoo artist (they rely on the substantial six-figure fee they received for the TV rights to their wedding), are focused on getting full custody of their daughters Audrey, 8, and Alexis, 7.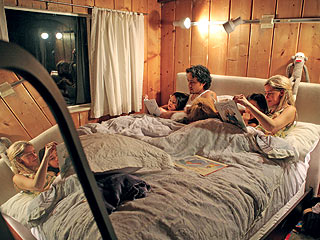 For now Fualaau's mother, Soona, who raised the girls while Letourneau was in prison, has custody of them, but in June Letourneau and Fualaau hope a Seattle court will give them custody. "It'll be nice to take the girls to Disneyland and not have to ask the state or notify Vili's mom," says Letourneau.
Her four other kids, from her marriage to Steve Letourneau, are slowly re-entering her life. Last October Steve Jr., 21, told his mother he was moving to Seattle from Anchorage and asked if he could live with her. Mary Claire, 18, a freshman at the Art Institute of Seattle, stays over frequently, and Jacqueline, 12, and Nicholas, 14, also visit regularly.
Still, the situation is complicated for Fualaau. "I feel like I don't really have a place except that I'm their mother's husband," he says. His wife's children "had a mom and dad and then I came into the picture and they think, 'I hate that guy; if he hadn't come along this would never have happened.'"