• "It was ugly. I mean, literally, like organs were being cried up."
–
Debra Messing,
to Oprah Winfrey, on the emotional toll of filming the last scene of
Will & Grace,
which ends its eight-season run on Thursday
• "Don't worry, Dave, it's not yours."
–
Britney Spears,
telling
Late Show
host David Letterman that she is pregnant with her second child
• "I think that's good news for both of us."
–
Letterman,
responding to Britney's announcement
• "I'm expecting a pretty good band for $8 million."
–
Vince Vaughn,
to Oprah Winfrey, addressing rumors that she planned to throw him and Jennifer Aniston a multimillion-dollar wedding.
• "It will be something very spontaneous."
–
Rebecca Romijn
to CNN on her lack of wedding plans with fiancé Jerry O'Connell
• "I couldn't be more proud of how the House and Senate pulled together to confirm the nomination of Chief Justice George Clooney."
–
Al Gore,
as the President of the United States in an alternate universe, on
Saturday Night Live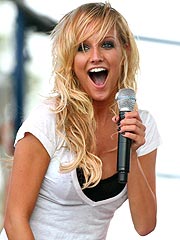 • "Everybody's already saying it, so I just don't talk about it. I'm like, OK, whatever. It doesn't bother me."
–
Ashlee Simpson,
on media speculation that she had a nose job
• "My wife is still a little salty with me. She's not mad at me, but don't think you can walk away from $50 million and your wife is just going to be cool with it."
–
Dave Chappelle,
to the
Associated Press
on skipping out on his lucrative
Chappelle's Show
contract
• "If they had done the 107 Most Beautiful People, you would have seen me."
–
Howie Mandel,
to Ellen DeGeneres, on not appearing on PEOPLE's annual list with the 26
Deal or No Deal
models who did