Jay Manuel is Tyra Banks's right-hand king of glam on the UPN hit
America's Next Top Model.
A makeup artist to the stars and photo director for
Vogue
and
Harper's Bazaar,
Manuel knows how to make a model shine in front of the camera. After lending his expertise to finalists Joanie, Jade and Danielle all season (the finale airs Wednesday at 8 p.m.), he tells PEOPLE what it takes to reign supreme in the modeling world.

DO: Have a presence
"You have to have the look: beautiful, great bone structure, tall," says Manuel. "But everyone thinks top models have to be really skinny, and that's not the case. It's really having great proportions to your body." But looks alone won't make you a success in the modeling business. Charisma counts just as much. "You want to walk into a room and everyone to turn their heads and go, 'Wow, who is that?' And a pretty girl can't do that on her own – it's usually that something else."
DON'T: Be arrogant
Confidence will take you a long way in the tough world of modeling – but cockiness can alienate people. "Everyone loves that confident woman but no one likes a cocky person," says Manuel. He gives Jade as an example of someone who can seem arrogant. "Jade is genuinely a confident woman, I just think she doesn't know quite how to express herself. Unfortunately, it comes off as cocky at times."
DO: Have drive
To win
Top Model,
"you are really winning the right to work in this business," says Manuel. "But if you think that you can just now sit back at home on the couch and wait for everyone to call you, that's not how it is." He also notes that only two of the show's past winners stand out as models with true ambition: Yoanna House and Eva Pigford. "They wanted this more than anything. Yoanna is a real go-getter. And Eva really wanted to step up and let those people know who said that she couldn't do this as a young kid, 'Look, I've arrived!' "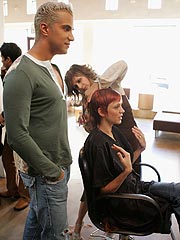 UPN / Monty Brinton / Landov
DON'T: Be intimidated
Modeling is hard work – not just smiling pretty for the camera. Though some situations will take you out of your comfort zone, the key is to rise to the challenge. "It is very important that these girls realize that they are going to encounter situations that are not comfortable and awkward," says Manuel. "The fashion industry loves to be provocative and take things to a creative level. You're not always going to just stand on a set in front of a background and pose for a photographer."
DO: Be professional
"Respect the people around you. This business is all word of mouth. If you develop a reputation that is unpleasant, people will find out about that," says Manuel. "The best thing you can do as a young model is to walk into every situation and say, 'What can I learn from this today?' If you fall down on the runway, can you make that a moment of your own?"