• "I apologized for disrespecting the office of the President. But I don't feel that way anymore. I don't feel he is owed any respect whatsoever."
– Dixie Chick
Natalie Maines,
on her one regret after saying in 2003 that she was "ashamed" that George W. Bush was also from Texas, to
Time
• "I'm going to say he's the favorite, but what do I know?"
–
Simon Cowell,
on
American Idol
finalist Taylor Hicks
• "I think the radiation went to my brain."
–
Sheryl Crow,
on flubbing the lyrics to her song "Soak Up the Sun" in her first performance since undergoing surgery and radiation treatment for breast cancer
• "She's worth about $7 million, which means she is really poor. It is disgusting. She lives in a motel."
– Billionaire heir
Brandon Davis,
in one of his less offensive remarks about Lindsay Lohan, in a videotaped rant that also featured a snickering Paris Hilton
• "It's been suggested that she married me for the money and there is not an ounce of truth in this."
–
Paul McCartney,
setting the record straight about estranged wife Heather Mills in the wake of their separation, on his Web site
• "I think I will be good when it comes to playtime. I don't know how good I'll do with the discipline."
–
Jack Black,
on impending fatherhood, to
USA Today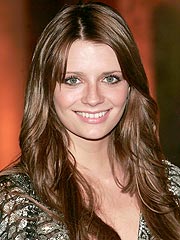 • "You know, they needed a big season finale at the end of this year and we've had three great years and my character has been through so, so much and there's really nothing more left for her to do."
–
Mischa Barton,
on the death of her alter ego Marissa Cooper on the season finale of
The O.C.,
to
Access Hollywood
• "She was never cool to me."
–
Christina Aguilera,
revealing that Mariah Carey said "derogatory things" to her at a party a few years ago, to
GQ
• "It is sad yet predictable that she would use my name at this time to reinvent past incidents for her promotional gain. It is in my heart to forgive and I will keep her in my prayers."
–
Mariah Carey,
responding to Aguilera's comments, to
Access Hollywood