William Shatner sang, Desperate Housewives danced and the men of
Grey's Anatomy
showered together when ABC introduced its fall lineup at Avery Fisher Hall in New York City on Tuesday.
Here are some highlights:
• Before the presentation started, a jumbo screen showed attendees chatting on cell phones and typing on PDAs while an unseen announcer provided running commentary. "Those are great shoes," the voice would say while the large screen focused on a lady's pumps. "Payless?"
• ABC entertainment president Stephen McPherson and
Dancing With the Stars'
Edyta Sliwinska tangoed to AC/DC's "Back in Black," earning a standing ovation.
• William Shatner emerged onstage, singing, "Hats off – here they come," as video rolled of the men of ABC in various stages of undress. Then the net's male stars arrived onstage in tuxedos as Shatner crooned, "Beautiful boys! This is what drives girls insane, especially the girls on Wisteria Lane."
• Jimmy Kimmel cracked jokes about Rosie O'Donnell joining
The View.
"I personally hope Star Jones stays," he said, "because Star versus Rosie is going to be like
Alien vs. Predator:
Whoever wins, we lose!"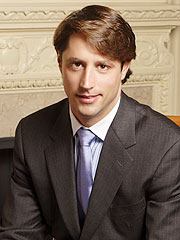 • The new Bachelor was announced, with a royal twist: He's Italy's Prince Lorenzo Borghese, a 33-year-old cosmetics entrepreneur, and this season will be set in Rome.
• The cast of the net's primetime darling,
Grey's Anatomy,
– which is moving to Thursday night – took the stage and video rolled of Patrick Dempsey, James Pickens Jr. and Isaiah Washington in a shower, soaping each other up and trading suggestive glances. The shower door opens to reveal costar Chandra Wilson in a towel. Dempsey says, "I've always loved you" and Wilson tosses her towel and steps into the shower. Next, she wakes up in bed and, realizing it was all a dream, cries, "Oh, hell no!"