The Votes Are In …
Watching this season of
American Idol
make its way to the showdown between Taylor Hicks and Katharine McPhee, I often wondered how much I was judging the singing on its merits, and how much I was just getting caught up in the excitement of a weekly elimination contest. It's not that I've ever worried that Taylor wasn't better than Katharine – he was, he is, and it's right that she lost – but there was that still-unresolved debate: Should he have stayed in the running when Chris Daughtry got the boot?
Well (I reasoned at the time), Chris was a terrific rocker, but he was also too slick, and the problem with slickness is there's no surface, no tactile quality that can grip the ear. And no one could accuse Taylor Hicks of being slick.
But I realize now I was high on
Idol
adrenaline. And I'm startin' to come down, man, startin' to come down. Send the Soul Patrol on ahead without me.
Withdrawal began while I was watching the
American Idol
finale – specifically, it was during that medley performed by Chris, Bucky Covington, Ace Young, Elliott Yamin and Kevin "Chicken Little" Covais.
There they were, in matching black outfits, singing "Taking Care of Business," when in from the back of the stage came Taylor, stomping his feet and playing the harmonica. This was meant to signal the arrival of the boss: You would have thought Tony Soprano had just walked into the back office of the Bada Bing and his henchmen were clearing a space at the table for him to have his lunch.
But I saw that guy with those other guys and I thought:
a) He's not as good as Chris.
b) He's probably not as good as Elliott, either.
c) He may not even be as good as Ace, but that's stretching it.
d) He is better than Chicken Little.
e) He's a lot better than Bucky.
In literature this is called an epiphany; in my life it's called Taylor Hicks.
So why had I started rooting for Taylor in recent weeks, when in fact I'd initially found him impossible to take seriously? I got to like his clunky good humor, for one thing. I liked his visits to the governor's mansion and Graceland. I liked the footage of him in a golf cart with Lisa Marie. And his voice can undeniably hit pockets of raw, bluesy power – even in that silly new ballad of his, "Do I Make You Proud?"
But what can I say? It was the fun of wanting the underdog to come out on top. It was sentimentality. It was cute.
And it was a great time. For that, Taylor Hicks, I thank you.
Sorry! This poll has closed.
Tuesday Night's Show
Taylor Hicks is the next American Idol.
Doncha think?
He seemed to clinch things on Tuesday's show, even if he started out wearing a blindingly ugly blazer that was a shade of purple I've seen only in old cartoons. What matters is the consistency of his performing. Not the singing – the performing.
Even when he seemed vocally on unsure ground Tuesday – especially with a song that will be his first single, a sludgy inspirational ballad called "Do I Make You Proud" – he found a way to turn the struggle into a compelling uphill drive with plenty of turns (soul/blues/yowls/gospel yelps) that ultimately delivered us to a safe emotional plateau.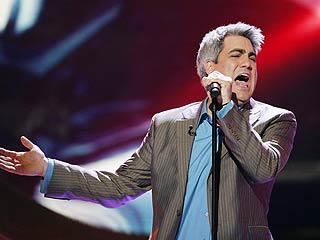 Whew! It's probably never going to be a smooth ride with Taylor. But at least you know it's a ride, and you've been on it – a journey, and you've taken it.
And isn't that what a singer is supposed to do with a song?
Katharine McPhee delivered many pretty, graceful and subtle touches, but the difference between her performances and Taylor's is you can never be sure she isn't just going to veer off the road altogether.
The judges were very kind Tuesday after she'd sung
her
first single, "My Destiny," but she seemed to struggle from the opening notes. I don't know if the poor girl's problem was tension or fatigue, but I haven't felt such nervousness for a performer since Lauren Bacall foundered introducing that film-noir tribute at the Oscars.
And that, simply put, is not what a singer is supposed to do with a song.