• "You're so stinkin' good looking, and so nice … I hate that he's got a wife! That's what I hate!"
–
Halle Berry,
responding to
X-Men
costar Hugh Jackman's question about the toughest part of working with him, on
TRL
• "I have a very cool wife who doesn't mind me kissing Halle Berry.''
–
Hugh Jackman,
to Australia's
Herald Sun
• "The first question was, 'What was your worst break-up?' And I just kind of looked at the guy and I said, 'Really? Are ya kiddin?' "
–
Jennifer Aniston,
on doing interviews with the foreign press for her movie
The Break-Up,
to David Letterman
• "Good luck in your ongoing non-relationship with Vince Vaughn."
–
David Letterman,
to Aniston, who has yet to admit she's dating her costar
• "I don't tire of (the questions), because I would do the same."
–
Vince Vaughn
, confessing that he would be just as curious about his relationship status as the rest of the world, to
Entertainment Weekly
• "I definitely think that you probably get a little advantage being from a small town – not just a small town, but the South....
Those
are the people that are voting and start crying when you talk to them."
–
Katharine McPhee,
on losing
American Idol
to southerner Taylor Hicks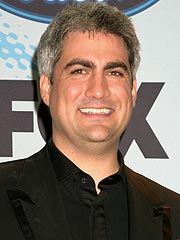 Kathy Hutchins / Hutchins Photo
• "When he said that, I thought, 'America, I might be jinxed.' Luckily it didn't happen and I'm very grateful for that."
–
Taylor Hicks,
responding to Simon Cowell's prediction that he would win
American Idol
• "(It's) utterly tacky, not even true, and it hurt my feelings because I like him."
–
Mandy Moore,
refuting ex-boyfriend Wilmer Valderrama's claim the she lost her virginity to him, to
Elle
• "What started out as a joke got completely carried away and I am horrified at the words that came out of my mouth. I consider Lindsay a friend and I hope she accepts my sincere apology for my reprehensible actions last week."
– Billionaire heir
Brandon Davis,
asking forgiveness from Lindsay Lohan for the offensive remarks he made about her in a videotaped rant