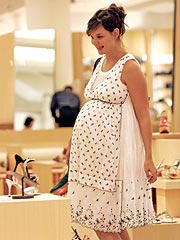 As it turns out, she won't have to wait too long to slip into the fun stuff: on April 18 Holmes, 27, and Cruise, 43, welcomed their first child, a 7 lb. 7 oz. baby girl named Suri, at an L.A.-area hospital. (In an only-in-Hollywood twist, Brooke Shields, who last year sparred with Cruise over her use of medication to treat postpartum depression, delivered her own newborn girl down the hall from Holmes the very same day.)
Both Holmes and Suri "are doing wonderfully," Cruise's rep tells PEOPLE. "The baby is happy and healthy. Katie is doing great. Everything is fantastic."
The birth went so smoothly, in fact, that Holmes left the hospital within 24 hours. A source close to the actress's Toledo, Ohio-based family, who were vacationing in Florida at the time of the birth, says that new grandma Kathy Holmes, 59, "was crying and said, 'We have a sweet baby girl! We're so excited!' " Holmes opted for an epidural, says the source, adding, "Everything is fine and Katie can relax now."
As for Suri – whose name the couple, in a statement, traced to the Hebrew for "princess" and the Persian for "red rose" – "she has lots and lots of dark hair and big, blue eyes," says the source. "She's going to be a beautiful baby."