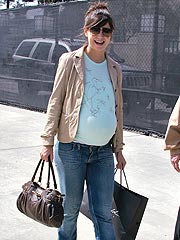 Now that she's here, what's in store for the newest Cruise? An upbringing in Scientology, for starters. "You can be Catholic and be a Scientologist. You can be Jewish and be a Scientologist. We're just Scientologists," Cruise told Diane Sawyer on the April 14
Primetime,
noting that he and Holmes (who was raised Catholic) will hold a Scientology naming ceremony but not a Catholic baptism.
Explains Greg LaClaire, the vice president of the Church of Scientology Celebrity Centre International in Hollywood, which Holmes visited regularly throughout much of her pregnancy: "We have a naming ceremony at which the parents and godparents pledge to give good care while at the same time providing the child an opportunity to grow and choose their own path in life. The child is welcomed by the congregation."
Of course, Suri – who, like Cruise's kids Connor, 11, and Bella, 13, will be schooled using Scientology's "study technology" – also can expect plenty of attention. The big sibs (whom Cruise adopted with ex-wife Nicole Kidman) have already been tapped to pitch in. "The kids will have different responsibilities and run in shifts," Cruise told
GQ.
"They're going to help on every level. I don't think this kid's gonna be able to walk until they're about 15. Feet aren't gonna touch the ground!"