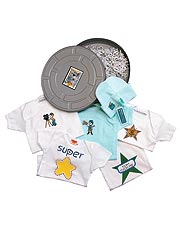 Naturally, the pampering isn't stopping there. In March, Holmes ordered three luxury bassinets from high-end baby bedding line Lulla Smith along with 30 sets of Sea Island cotton sheets. ("That baby is not going to use the same sheet twice!" jokes designer Carol Smith.) And the baby booty has been pouring in too, including a onesie that declares "Tom Coos" and a terry-cloth robe with the word "MOVIE" above a gold star.
Even as the news of the glamor girl's debut sparked a renewed frenzy at casa Cruise in Beverly Hills – circling helicopters, hordes of paparazzi and even a K-9 police unit – the new parents are making every effort to create a peaceful environment away from prying eyes in keeping with Scientology beliefs about maintaining calm around children.
But Suri might want to get that passport ready: Although Cruise cleared his
Mission: Impossible III
publicity schedule immediately after the birth, he's likely to resume it – possibly with his two newest leading ladies in tow – before long. "Tom does everything 150 percent," says his friend Kirstie Alley, "and fatherhood he does 300 percent. They're going to have a great kid."