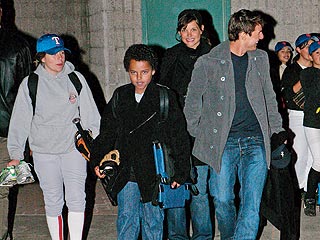 DEAN MCDONALD / SPLASH NEWS
Parenting: Scientology's Way
First step for little Suri: a Scientology naming ceremony. After that? L. Ron Hubbard, the founder of the Church of Scientology, had a lot to say about raising children. Among the guidelines:
1. Brew your own.
While breast-feeding is fine, Scientology literature also includes a recommended baby formula recipe of barley water, milk and corn syrup, which Hubbard believed provided needed protein. "It is up to the parents as to use," says Scientology Celebrity Centre vice president Greg LaClaire.
2. Spare the rod.
Scientologists believe that excessive discipline or yelling at a child can harm the spirit. "Children are not dogs," reads one handbook. "The sweetness and love of a child is preserved only so long as he can exert his own self-determinism."
3. If they fall, don't fuss.
"When your child gets hurt, they kind of look for your reaction " says actress and mom Leah Remini, a Scientologist. "Try not to gasp. Console them, but don't do the initial 'Ahhh!'"
4. Let the kid get a job.
Though baby Suri will grow up with every financial advantage, Hubbard cautioned that "forbidding children to work, and particularly forbidding teenagers to . . . earn their own money creates a family difficulty."
5. Love your child.
Cruise has talked publicly about his strained relationship with his own father. Wrote Hubbard on the subject: "Affection could no more spoil a child than the sun could be put out by a bucket of gasoline."
• By Michelle Tauber and Allison Adato. Lycia Naff, Alexis Chiu, Tom Cunneff, Jed Dreben, Julie Jordan, Amy Keith, Elizabeth Leonard, Brenda Rodriguez, Alison Singh Gee and Frank Swertlow in Los Angeles and Barbara Sandler in Chicago