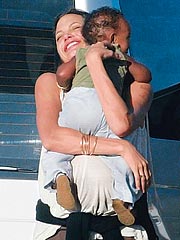 As if there were any doubt. Yes, after months of hyper-anticipation, the world's most glamorous family has welcomed its newest, littlest member. The birth itself was "very touching," and everything went "absolutely normally," says Peter Sander, director of the Cottage Medi-Clinic. "(Angelina) was treated like any other mother-to-be. She had no special requests and ate the normal hospital food." A radiant mom and baby checked out three days after the birth. Before leaving, the new parents thanked the staff, says Sander: "Brad said, 'It felt like home to us.' "
Pitt, 42, and Jolie, 31, chose Namibia as their daughter's birthplace in April, when the entire clan, including Shiloh's big brother Maddox, 4, and big sister Zahara, 1, settled in at the secluded Burning Shore hotel. Now back at the lodge, "everyone is doing well," regional governor Samuel Nuuyoma tells PEOPLE. "Both (Brad and Angelina) are very excited and happy." And Shiloh? "She's crying a lot to let them know she's healthy, so it's good."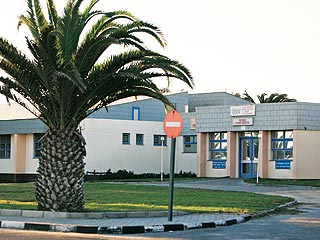 While Shiloh – who is automatically a U.S. citizen with two American parents and also will be offered Namibian citizenship – flaunts her lung power, her parents are reveling in their new addition. "It's an exciting time for Brad and Angie, and we are really happy for them and the kids," Brad's brother Doug Pitt told Missouri's
Springfield News-Leader.
(Despite tabloid reports, Angelina's brother James Haven was not in the hallway outside the delivery room, although he was in Namibia.) Jolie's estranged father, actor Jon Voight, 67, also offered his best wishes: "I'm very, very excited for the both of them. My love is with them always."