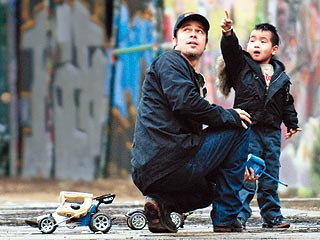 Whether racing ATVs with Maddox or taking Zahara for a bicycle ride, Pitt has been especially hands-on with Jolie's older kids, whom he is in the process of adopting. During a mid-April visit to the Harnas Wildlife Foundation in Namibia, of which Jolie is a supporter, "Brad, three little Bushman kids, Maddox and my brother's little boy had a wrestling competition on the lawn," says pal Marlice van Vuuren, a director of the wildlife sanctuary. "They were jumping on (Brad) and played with him the whole time. He was really enjoying it."
Now that Shiloh is here, the family is expected to remain in Namibia for a few weeks before heading back to L.A. so Pitt can begin shooting
Ocean's Thirteen.
He's also due to film the fable
Benjamin Button
with Cate Blanchett in New Orleans this fall; Jolie, for her part, has no current projects in the works since wrapping
The Good Shepherd
and
Beowulf
late last year. Mostly, both parents are focusing on the roles of Mom and Dad. "They have this incredible warmth for kids," says musician Wyclef Jean, a friend. "Theirs is one blessed baby."
• By Michelle Tauber and Jennifer Wulff. Mary Green in New York City, Sara Hammel and Pete Norman in London, Dee-ann Brown in Namibia, Peter Mikelbank in Paris, Courtney Rubin in Monaco and Kate Klise in Mystic, Conn.