Taylor Hicks has been crowned the new American Idol.
Asked if he had anything to say to America, Hicks gave a shout-out to his most dedicated fans, yelling "Soul Patrol!"
Runner-up Katharine McPhee embraced Hicks and thanked her fans for an
Idol
experience she called "a dream come true." Then Hicks launched into his first single, "Do I Make You Proud?"
Announcing the results, Ryan Seacrest noted that "an astounding 63.4 million votes" were cast, "more than any President in this country has ever received."
After his win, Hicks told FOX news reporters, "It's an exhilarating feeling. I am flabbergasted. I can't believe I'm the next American Idol." He admitted that when his name was called he had to tell himself, "Don't just fall to the floor. Don't let your knees buckle."
The two-hour finale episode, which Seacrest said was being watched by 200 million people around the world, kicked off with Hicks, McPhee and the 10 booted finalists belting Barry Manilow's "I Made It Through the Rain."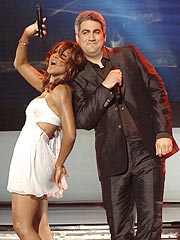 In the many other musical numbers,
Idol
finalists dueted with established stars: Hicks with Toni Braxton, McPhee with Meat Loaf, Chris Daughtry with Live, Paris Bennett with Al Jarreau, Elliott Yamin with Mary J. Blige and, toward the end, all 12 finalists performed with Burt Bacharach and Dionne Warwick.
But the biggest show-stoppers were Clay Aiken, who debuted a jaw-dropping new hipster hairdo, and Prince, who performed two songs solo before an ecstatic audience.
Hicks's prize includes a $1 million recording contract and a Ford Mustang convertible, which McPhee also received.
Hicks's win was largely expected. At the end of Tuesday night's episode, Simon Cowell told the 29-year-old Alabama native: "Assuming that I was right and the show was tied, then you have just won
American Idol.
"
Going into Wednesday, after Cowell's pronouncement, betting on McPhee dropped considerably, with 90 percent of all monies going toward Hicks – the odds-on favorite by 2:13, according to PinnacleSports.com.
Even McPhee had praise for her rival. In an interview late last week, the 22-year-old from Los Angeles said, "I think Taylor's main advantage is that he's really free on stage. I get nervous and clench up. That's something Taylor is really, really great at. We're both so different."
Hicks started in the music biz by fronting an eponymous blues band in Alabama. At his
Idol
audition in Las Vegas, Hicks told the judges, "I want my voice to be heard, because I believe that I've got one." (Still, as Randy Jackson and Paula Abdul delighted in telling Cowell on Tuesday's show, Cowell gave him a thumbs-down.)
On a May 12 trip home to Birmingham, Hicks received a hero's welcome, complete with a parade, a meeting with Gov. Bob Riley and some down-home Southern cooking. "You take grits for granted," he said.
His mother, however, never took her son's talents for granted. "I knew this would happen," Pam Dickinson told PEOPLE. "I knew he was going to become a star."
As for the future, Hicks says he'll record an album that will be "a really good representation of who I am as an artist. There are things that I want to do creatively that I've never been able to get to do before
American Idol
– possibly (something) a little bit cutting-edge."
Of his immediate plans, he speculates, "I'll probably live on my tour bus. My home has been the road since even before
American Idol.
A tour bus with some good, cold iceberg lettuce is probably where I'm going to stay."
Sorry! This poll has closed.