• "He helps me. He has to. I'm (an) emotional wreck right now."
–
Britney Spears,
telling Matt Lauer that her love for Kevin Federline is still strong – unlike her affection for the paparazzi
• "People like to think that just because I'm young and like to enjoy my life, I'm some crazy party girl. I hate the term party girl – I hate it."
–
Lindsay Lohan,
on feeling all grown up, to
Harper's Bazaar
• "You can't get a word in edgewise with those bitches."
– Comedian
Mario Cantone,
who roasted Meredith Vieira during her last
View
taping, on sitting with the show's cohosts, to PEOPLE.com
• "Men want to be him, women want him, and in my case I both want to be him and want him."
–
Mike Myers,
paying tribute to lifetime achievement honoree Sean Connery at the American Film Institute
• "The truth of the matter is that 90 percent of it is already out there in court documents. The book is really more of a celebration of my life. I didn't write it to get people mad."
–
The Sopranos'
Lorraine Bracco,
on revealing details of her tempestuous relationship with Harvey Keitel in her memoir
On the Couch,
to the
New York Post
• "Vince is famous. He's an A-list celebrity. I'm a B-list celebrity."
–
Entourage'
s
Adrian Grenier,
on how he's not like his show's character, to
Newsweek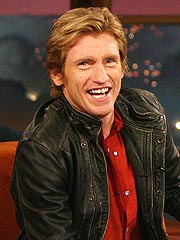 • "Mutual love, a little hatred and staying the hell away from each other."
–
Denis Leary,
on the secret to his 16-year marriage, to Conan O'Brien
• "I don't frickin' know."
–
Kyra Sedgwick,
when asked of the secret to
her
18-year marriage to Kevin Bacon, to PEOPLE.com
• "You're pacifiered."
– A spoof of baby
Barron Trump,
coming up with his own catchphrase on
Late Night with Conan O'Brien