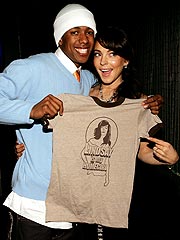 There was also rumbling that you and Lindsay Lohan were dating at one point.
We were in
Bobby
together and we were hanging out on set and going to the clubs afterwards. People thought a lot of stuff was going on because they kept seeing us together. She's a good girl – she's fun to hang out with (laughs). I really don't have time to commit to a relationship. I just keep a lot of friends around.
You're very active with your Nick Cannon Youth Foundation, which your father runs.
At a young age, I was producing and writing and directing my own stuff. I think that helped cultivate what I do today. So we wanted to shed light on the aspect of producing and creating projects in inner-city communities with the youth – it's almost like doing a Little League for entertainment. I'm also doing a show with Quincy Jones for Nickelodeon – a music reality show with young kids.
You also collaborated with Kanye West on your album, Stages.
He produced one track – he was the backbone to my project because when we first started, he sat down and gave me the vision like, "This is what people want to hear." I just took it and ran with it. I wrote all the songs and I'm the executive producer on the album.
Movies, music, TV – and now you've bought a fashion line, too. Why?
It seems like that's one of the cornerstones in the mogul move. I wanted to get a line that was already established instead of doing the vanity thing and naming a clothing line after me.
So being a mogul is part of your master plan?
That's always been the blueprint. I always looked up to Quincy Jones and aspired to do all the things that he did – how he was a television producer and a music producer and scored movies and owned a magazine. My eyes are on the prize of the mogul status.
What's next – politics?
The political arena is definitely something that interests me.
How about running for President one day?
That sounds good – I'll take it.