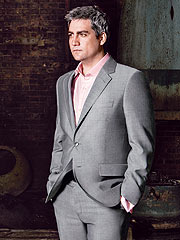 PEOPLE : First of all, let's bust a myth. There's nothing goofy about you.
Taylor Hicks: They made me out to be the goofy wedding singer. And that's completely the opposite. I'm a musician and a writer. I'm more of a deep person than the way they portrayed me on American Idol. I was just enjoying the moment.
Women have been going crazy over you. What do they do when they see you?
I've been completely mobbed. Some of them cry. Some of them scream. Some of them put their hands on you. Most of them want hugs. And you know, there's nothing wrong with giving a hug or two.
What do you think people are connecting to?
I would say being real. Just a real, down-to-earth person who's a musician.
Why don't you have a girlfriend?
All I've done for the last year is work on my career. There's been no time for any kind of love reaction. It's going to be interesting now. I wouldn't mind going on a date or two. Being a struggling musician is not a very comfortable position. Now I feel like I'm a little more comfortable, so my dating can increase.
What are you looking for in a woman?
She's gotta be cool. She's gotta be easy to get along with. And deep. Shallow does not turn me on at all.
What do you like, lookswise?
Natural beauty. Like the morning after, not having to wear makeup. Not even having to wear makeup to go out. And preferably tall, but there are very beautiful petite women.
Do you like southern girls?
They're nice.
Do you find any of the American Idol girls attractive?
Of course they're attractive. But I don't think I'm going to date them.
Are you looking for somebody who would have accepted you before you were crowned American Idol?
Yes! Yes!